Men's Tennis
Van Cotthem overrules No. 14 Judges in nail-biting 5‒4 decision
The No. 29 Engineers traveled to Brandeis University hoping to defeat the No. 14 Judges to extend their winning streak to 10 games.
Beginning with doubles, Rensselaer's pairings were Aiden Drover-Mattinen '25 and Peter Lohrbach '22, Max Safanov '24 and Igor Visnevskij '25, and Suhas Krishnan '24 and Eddie Wu '22. Drover-Mattinen/Lohrbach overpowered the duo of Adam Tzeng and Jeff Chen 8‒4 to put RPI into an early lead. Brandeis tied it up when Safanov/Visnevskij fell to Levine/Walters 8‒6. In the final doubles match, Krishnan/Wu came up with a crucial 8‒6 win to head into the six singles matches in the lead 2‒1. Drover-Mattinen, Emilio Van Cotthem '25, Visnevskij, Abraham Yohannes '23, Krishnan, and Safanov took on the Judges in the six singles matches that followed.
The #5 singles match was the first to end as Krishnan dropped the first set in a tie break and the second 6‒2. Drover-Mattinen was the next to finish as he took the first two sets 6‒3 and 6‒4. Brandeis took a 4‒3 lead with victories over Visnevskij and Safanov in two sets, needing just one more win in the final two matches to beat the Engineers. Van Cotthem and Yohannes needed to fight back if they wanted to secure RPI's tenth straight win.
Yohannes took the first set of his match 6‒4, but his opponent Colt Tegtmeier took the second by the same score. The Engineers overwhelmed Tegtmeier in the final set 6‒1 to tie the match up at 4‒4.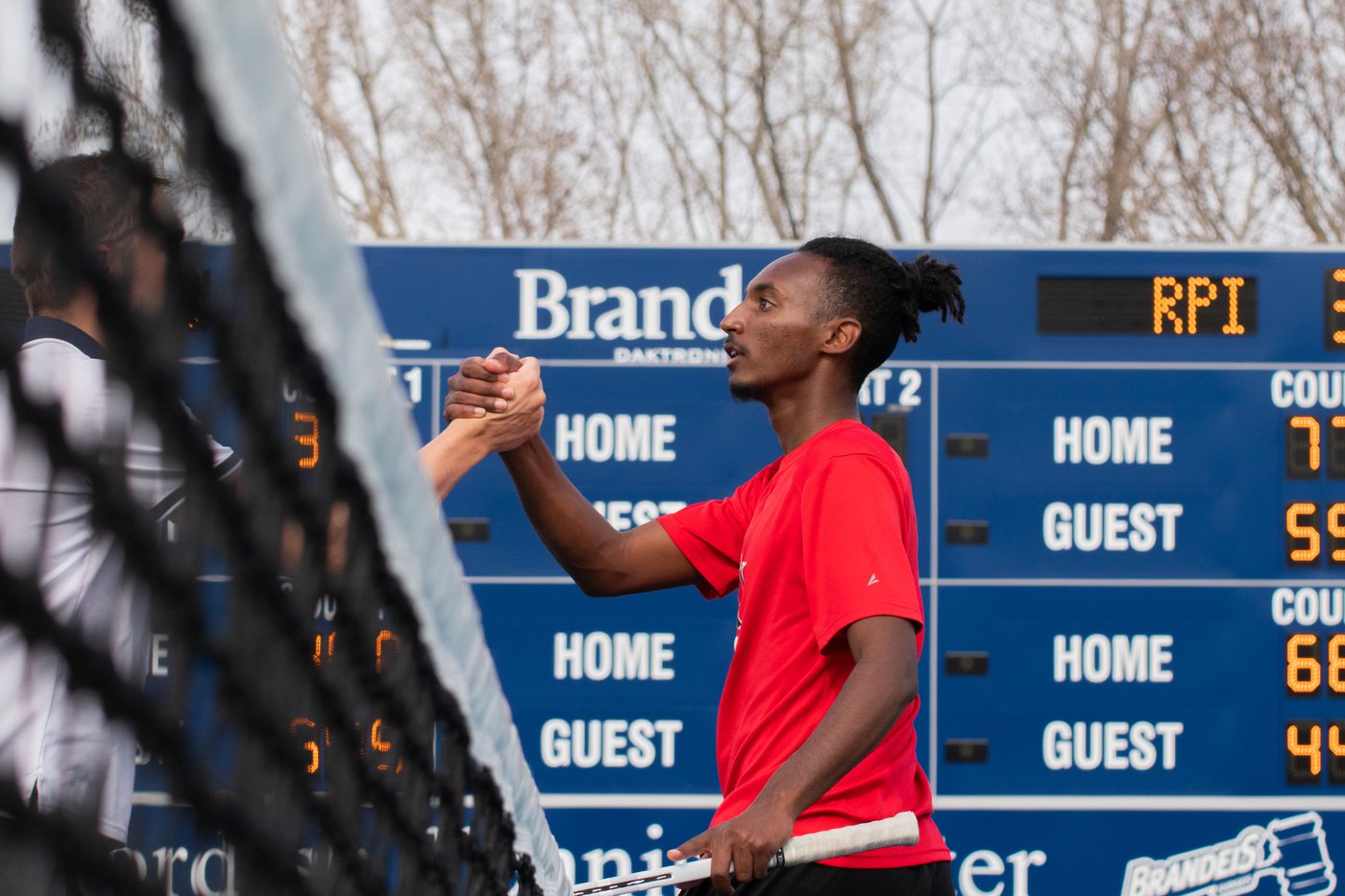 As Yohannes's match came to a close, Van Cotthem was finishing up the second set. Having lost the first set to Brandeis's Chen and trailing 3‒0 in the second, he desperately clawed back to win a tiebreak 8‒6 to stay alive. Falling behind 3‒0 in the third set as well, the outcome looked bleak for the Engineers. With his back against the wall, Van Cotthem somehow managed to battle back yet again and took a 5‒4 lead heading into a break.
Van Cotthem continued building momentum until finally defeating Chen to win the third set 6‒4. His teammates stormed the court to celebrate his unlikely comeback and decisive victory. The Engineers are now on a 10-game winning streak as they improve to 12‒2 on the season. RPI will host Ithaca for the final match before the Liberty League championship.