Women's Hockey
Engineers poach Tigers to end 13-game losing streak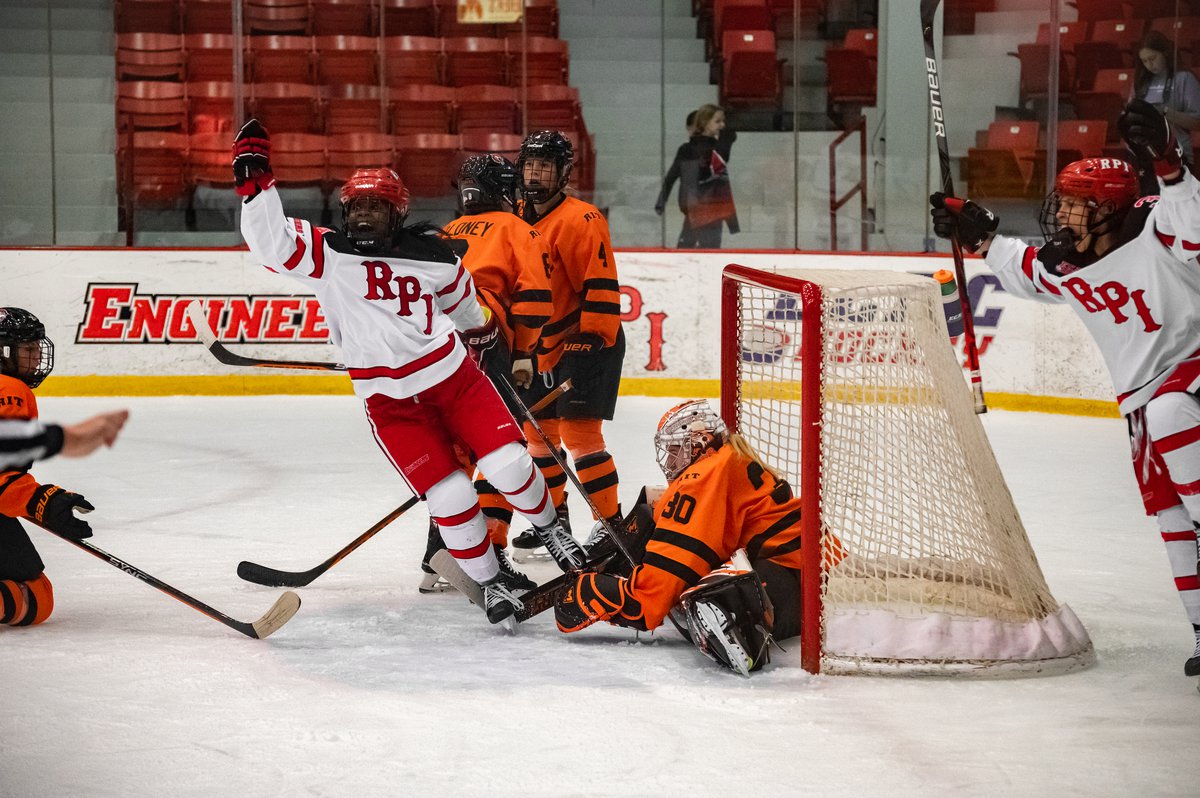 The Engineers defeated the RIT Tigers 2‒0 and 3‒0 for their first two wins of the season, snapping a 13-game losing streak carried over from last year. RPI's Marah Wagner and Ellie Kaiser both tallied three points in the two-game set. Goaltender Amanda Rampado recorded 42 saves in the shutouts.
In the first game of the weekend, RPI scored the opening goal less than five minutes into the second period. Nina Christof peeled off a Tiger, creating enough separation to rip a shot on goal, but it was blocked by one of the defensemen. Wagner dove forward, launching the loose puck into the net to put the Engineers up 1‒0.
Ten minutes later, RPI tacked on another. With their power play about to end, the Engineers looked to attempt one last shot. The penalized Tiger burst out of the box as Maddy Papineau eyed the top-left corner. Papineau's bullet soared over the RIT goaltender's shoulder for the Engineers' final goal. RPI nearly tripled the Tigers' shots on goal, totalling 38 to RIT's 13.
In the second game, all of the Engineers' goals again came in the second period within a span of five minutes. Halfway into the period, Kaiser received a pass along the boards in the offensive zone. One-on-one with a Tiger, Kaiser blew past the defenseman, then slipped the puck between Tiger goaltender Sarah Coe's legs for RPI's go-ahead goal.
Two minutes later, Sabrina Beaudoin slid a pass to the front of the net to teammate Sara Bayne. Bayne's one-timer ringed off the right post, ricocheting into the crease. Poaching in front of goal, Asiah Taylor-Walters rocketed the rebound five-hole to double the RPI lead.
After three more minutes of play, a power play gave the Engineers another opportunity to score. Kaiser slinged a pass across the zone to Wagner, who subsequently teed up Magdalena Erbenova for a shot. From the blue line, Erbenova blasted a one-time slap shot under Coe's blocker to put RPI up 3‒0.
The Engineers' sweep of RIT brings their record to 2‒6‒0 on the season, gaining momentum before beginning their ECAC schedule against St. Lawrence. RPI returns to the Houston Field House on November 4 to take on Dartmouth at 6 pm. Click here for the box score of the first game, here for the second, and tune in to ESPN+ to follow the Engineers this season.