Student Senate
Grand Marshal, Provost hold discussion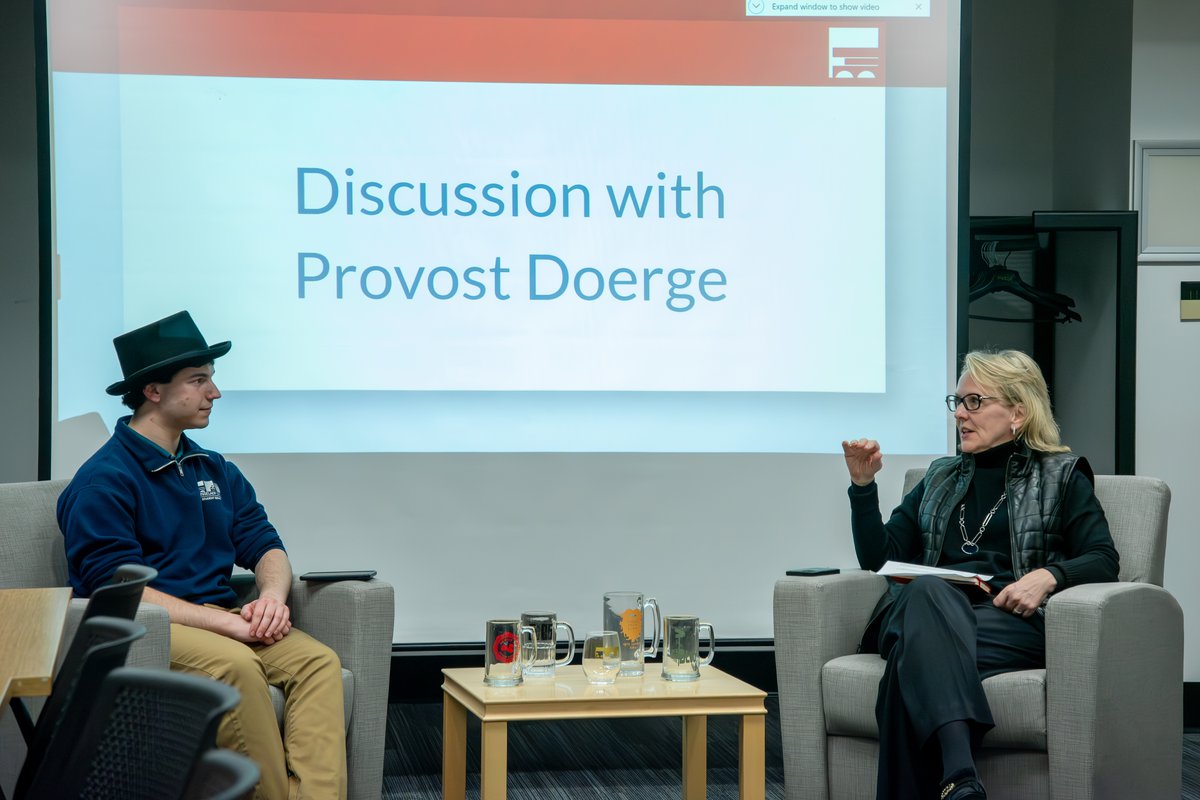 In a break from their usual Monday night meetings, the Student Senate hosted Provost Dr. Rebecca Doerge for a discussion on the future of Rensselaer. Doerge assumed her new position on August 1, 2023 after previously serving as Carnegie Mellon University's Glen de Vries Dean of the Mellon College of Science for seven years. The discussion was moderated by Grand Marshal Ben Viner '24.
The discussion began with a handful of prewritten questions submitted by Senators. The first question was in regards to the recent merging of the Student Life office and Enrollment Management office with the Provost office. Doerge stated that at other universities it is more common to have several offices and divisions under the Provost. At RPI, most offices, including Student Life and Enrollment, are under the President. When she first began the job, the Provost only oversaw the offices of Undergraduate Education, Graduate Education and Institutional Research and Assessment. Doerge added that "presidents are what we refer to as outward facing, they talk to alumni, they talk to business leaders, they create vision." This change should give President Martin A. Schmidt '81 more "wiggle room." Doerge also hopes that having all of the academic offices under one office will improve communication between them.
Viner then asked if there were any plans to encourage more project-based curriculum instead of exam-based. Doerge stated she was impressed with the amount of experiential learning she has already seen, but noted the challenges with larger, first-year introductory courses. She also mentioned that there were other ways to evaluate students, such as oral exams or competency based exams where students only move on once they have proven competency. Notably, Doerge stated that "you are here to learn how to learn and to learn how to think… it's a whole critical thinking that, quite honestly, [the] American education system [does not] do well."
Graduate President Alexander Lutsevich then followed up by asking if there were any ideas of involving graduate students more in the teaching process. Doerge agreed with the premise, saying, "we have graduate students who will want a career in academics and graduate students who will want a career in teaching, and that we need to promote that." She also mentioned that when she was going through her education, faculty would try to recreate graduate students in their own image. Doerge believes this system should go away because there are people who are talented at teaching.
The conversation then shifted to the Provost's recent change in the excused absence policy in which Viner asked Doerge for her rationale in making the change. She stated that "you guys are young adults who need to learn how to balance your time and you don't need to have a written excuse to be responsible for your own time." Importantly, Doerge mentioned that she did make a mistake with how the policy change was rolled out, but she won't retract the change. Given the opportunity to announce the change again, Doerge wanted to socialize the change and discuss it more with the student body and faculty.
The Provost then discussed a plan for a pilot testing center for students with accommodations or missed an exam due to illness. She didn't reveal much information about the testing center or where it would be located because there were still some issues that needed to be resolved. However, she did mention that she wants to have the pilot testing center up and running for the Spring semester while spending virtually no money on the program.
The final prewritten question was in regards to the Grand Marshal's plan to reduce textbook costs. According to Viner, a pilot program was started a few weeks ago where for a handful of the large first-year courses, including Calculus I and Physics I, the access codes will be purchased in bulk at a reduced cost for students. Doerge then added that the next step involved making it so students don't need to go to the bookstore to get an access code. A larger rollout of this program is expected to begin in the Spring semester.
Senators were eventually given the opportunity to ask Provost Doerge questions directly. One question was in regards to Doerge's experiences at previous schools and how the transition from CMU to RPI has been. Another question was about how recent exam averages for first-year classes were lower than in previous years. One of the more interesting questions, however, was from Vice Grand Marshal Philip Paterson '25 in regards to how RPI should deal with ChatGPT. Doerge stated that she believed it to be a tool that wasn't going anywhere anytime soon. She also added that "you might be using ChatGTP [sic] but somebody out there is learning just as much about you as you are about whatever you are getting out of it."
While Provost Doerge answered several specific questions throughout the meeting, she was asked broadly what personal priorities were. She stated that "this place is small enough to not be as complicated. I think it's no secret that the pre-Marty administration was not all that warm and fuzzy, welcoming is a better word for it. I think that if I walk away from here at the end of five, ten years, or however long and I've influenced the culture to make it a kinder, more welcoming place that people are proud of, then I've done my job."
This Senate meeting was held on November 6. Senate meetings are held every Monday at 8 pm in the Shelnutt Gallery.