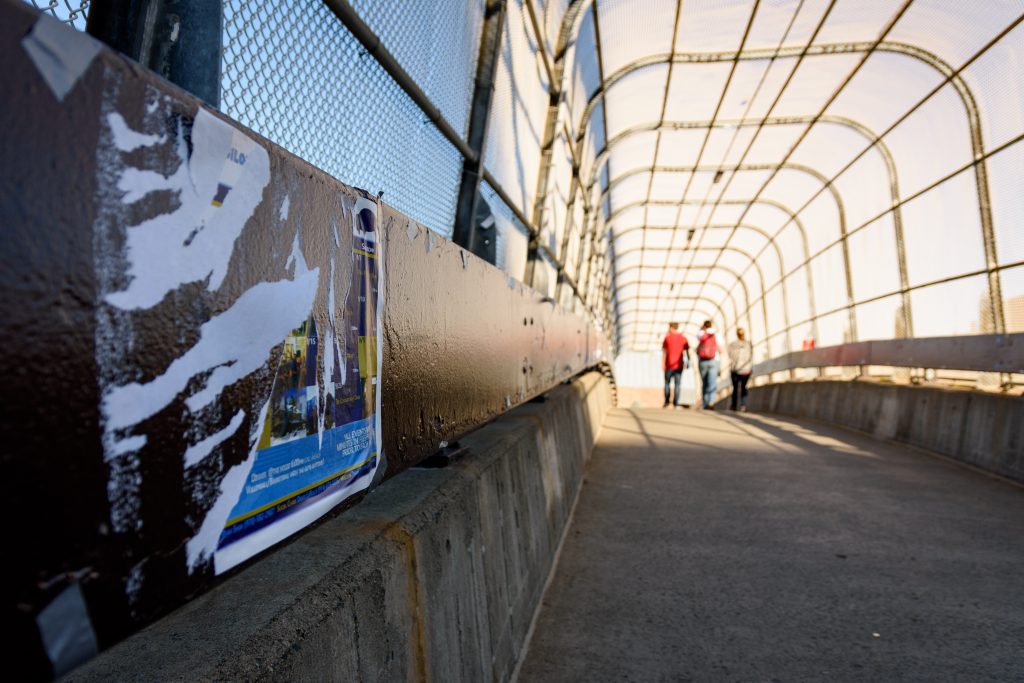 POSTERS ALONG THE 15TH STREET FOOTBRIDGE WERE REMOVED earlier today after Dresher sent a reminder about the
Sign Policy
.
Editor's note: an updated version of this article is available in the September 21, 2016 issue of The Poly.
Just prior to 3 pm this afternoon, Acting Dean of Students Cary Dresher sent an email titled "Sign Policy Violations" to the Rensselaer community. In it, Dresher said, "There are numerous signs currently displayed on campus that are in violation of the campus sign policy and they will be immediately removed."
After receiving this email, The Poly discovered that posters related to Save the Union were no longer present on the Darrin Communications Center, the Center for Industrial Innovation, or the Quad as of 3:15 pm. However, many other posters in violation of the sign policy were still present. As of 5 pm, signs on the footbridge and some of the posters in the Rensselaer Union have been removed.
Many of the posters that have not yet been removed violate article II, part C of the Sign Policy, which states that "Every sign must have a clearly visible and legible takedown date on the bottom right corner. For signs advertising events, this must be the day after the event. For all other signs, this must be at most 15 days from the date they are posted."
The Poly reached out to Dresher to determine the specifics behind the sign policy violations. In an emailed statement, he responded, "There were numerous violations to the campus sign policy. We received input from various sources that the campus sign policy was not being enforced. Our goal is to consistently enforce the policy to the best of our ability. The signs were removed by staff members in the Division of Administration."
Vice President for Administration Claude Rounds deferred to Dresher for comment.
The Poly has reached out to Save the Union for comments. At the time of posting no response has been received.
The Poly is continuing to investigate the sign removals and will update this article as new information becomes available.
Update (9:36 pm): Save the Union has responded to The Poly and posted a statement after today's poster removals, saying, "The methodical eradication of our political signs was first noticed before noon… We believe our removed signs were in full accordance with the Institute Sign Policy."