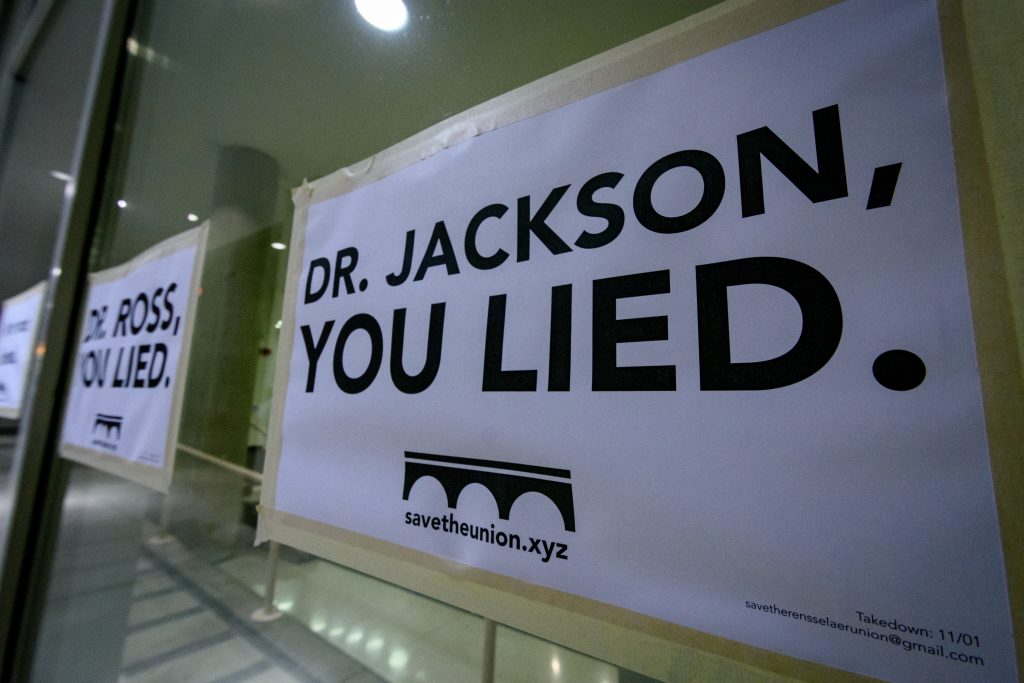 RECENT POSTERS HAVE been removed for violating Rensselaer sign policy.
Just prior to 3 pm on Friday, September 16, Acting Dean of Students Cary Dresher sent an email titled "Sign Policy Violations" to the Rensselaer community. In it, Dresher said, "There are numerous signs currently displayed on campus that are in violation of the campus sign policy and they will be immediately removed."
After receiving this email, The Poly discovered that posters related to Save the Union were no longer present on the Darrin Communications Center, the Center for Industrial Innovation, or the Quad as of 3:15 pm. However, many other posters in violation of the sign policy were still present. As of 5 pm, signs on the footbridge and some of the posters in the Rensselaer Union have been removed.
Many of the posters in violation that have not yet been removed violate article II, part C of the Sign Policy, which states that "Every sign must have a clearly visible and legible takedown date on the bottom right corner. For signs advertising events, this must be the day after the event. For all other signs, this must be at most 15 days from the date they are posted."
The Poly reached out to Dresher to determine the specifics behind the sign policy violations. In an emailed statement, he responded, "There were numerous violations to the campus sign policy. We received input from various sources that the campus sign policy was not being enforced. Our goal is to consistently enforce the policy to the best of our ability. The signs were removed by staff members in the Division of Administration."
When asked for comment, Save the Union said, "It is quite clear that Save the Union signs were targeted in this campus-wide removal in spite of our signs abiding by the rules of the extended sign policy, and in many cases normal sign policy as well."
Save the Union believes that their signs fall under the extended sign policy because they refer to the active petition "Preserve the Student Union." Under the Petitions and Referendum Handbook, the Extended Sign Policy is always in effect for petitions and referendum.
As of Tuesday, September 20, Save the Union posters have appeared on the pillars of the CII, but have not been posted on the windows.