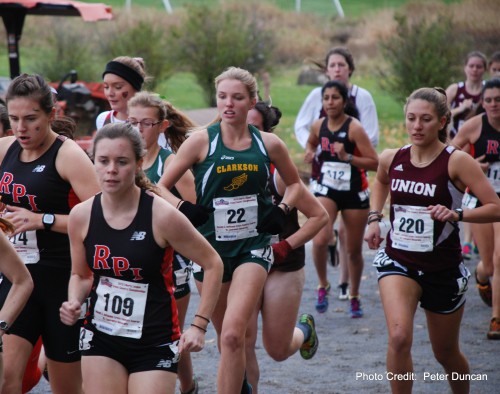 THE WOMEN'S CROSS COUNTRY TEAM MADE history after becoming the top 13th nationally ranked team. On Sunday, the group recieved the news that they had earned a bid to compete in the national championship.
Climbing to 13th in national rankings since the cross country season kicked off in September, the women's team showed 44 teams what they were made of on Saturday when they placed third overall at the NCAA Division III Atlantic Regional Championship Meet held at Letchworth State Park just outside of Geneseo, NY. Never in Rensselaer women's cross country history has the team performed this well at a regional meet.
The icing on the cake came on Sunday when the team received word that they had earned a bid for the national championship meet to be held on Saturday in Oshkosh, WI.
"We actually found out on Sunday at about 3 pm, and we are definitely heading to Nationals!" said junior women's co-captain Maddie Dery, who placed 12th in the 266-person women's 6 km race. "I cannot even begin to describe how excited we all are…this has been our dream ever since the end of last track season when we found out that it was a realistic goal."
Seven women represented the Engineers on Saturday's course. 22 minutes and 7.2 seconds into the race, sophomore Jaime Lord crossed the finish line to take fifth place overall and first for RPI.
"Regardless of how we finish at Nationals, I am just so proud of all of us girls for the hard work and commitment we put into this sport," said Lord. "To go from last year, where we weren't even ranked nationally, to now where we are ranked 13th, is just unbelievable."
Senior and women's team co-captain Shannon Trant came through shortly after Lord, placing eighth in a time of 22:16.6. Following her was Dery, after whom came junior Mary West in 28th place in 22:54.1. Junior Alexa Sakorafos, who placed 50th with a time of 23:21.8, was the final scored team member, earning the women 103 points.
"The mental and physical efforts that have gone into this season to get to nationals can be attributed to [Coach John] Lynch," said senior runner Isabel Johnson. "It is no shock to me that we are going to nationals, because we have earned it! We have worked hard and will continue to work hard until we hit the finish line in Oshkosh."
The Geneseo Knights took the meet with 75 points. Oneonta was the runner-up with 89 points. Just as St. Lawrence University was defeated by RPI at the Liberty League Championship Meet last Saturday, they again fell behind RPI to place fourth with 128 points. Their top runner, Megan Kellogg, won the race with a time of 21:44.6. This was her seventh straight victory for the 2015 season.
Junior Ben Fazio took to the lead pack of the 288-person men's 8 km race from the start, and ended up placing fourth in the race to clinch a berth in the national meet. His time of 25:22.6 was 11.5 seconds behind the leader from Geneseo's time.
Falling in behind Fazio for the Rensselaer men were freshman Grant O'Connor in 30th place at 26:10.2, sophomore Matthew Stewart in 48th place with 26:29.8, freshman Sean O'Connor in 57th place at 26:36.8, and senior Steve Hammar in 68th with 26:45.2. Juniors Garret Davis and Matthew Cicciu also ran, but were not counted in the score, which was 207 for RPI. Geneseo took the meet for the men with 54 points, while St. Lawrence came in second with 68.