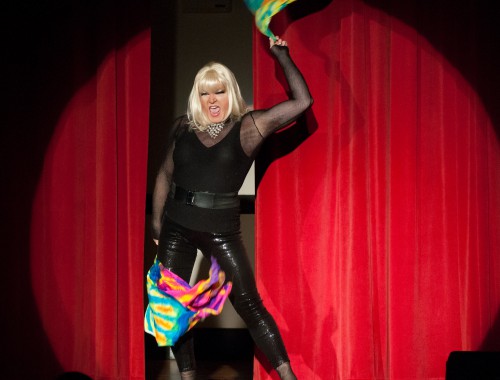 A DRAG QUEEN PERFORMS with intensity, entertaining and surprising the audience.
Everyone has that one friend—the person that sweeps in right as life gets too predictable and gives a new definition to excitement. Mine, without fail, steered me to the front steps of Academy Hall at 8 pm Friday night. The normally stoic building was dressed up in rainbow streamers and balloons, a welcoming invitation by the Rensselaer Pride Alliance to come in and enjoy a quality Drag Show.
RPI was graced with "The Final Show" by the lovely Penny, the host for the evening, in what was to be her last time hosting such an event since she started back in 2009. Joining her were Sherri Love, Ophelia Nighly, Pacifica Rim, Carmie Hope, and Frieda Munchon. Together they made for a truly unforgettable night, showcasing their various talents and bold personalities. Be it through singing, dancing, lip syncing, or acting, the ladies kept their audience captivated. It was a wild ride, yet, even through the plethora of dirty jokes and literal candy flying across the room, the pure talent of these queens shone brighter than their sequined dresses under spotlights. I hadn't the slightest clue of what to expect when I walked in, but everything came as a pleasant surprise: there was glitter galore, sass to spare, and I can say that performing a cartwheel and dropping into a split all while in four-inch heels has never looked so effortless.
Everyone had their own time in the spotlight; even audience members got to take a turn up on stage! Penny and friends would often come down into the crowd to interact and occasionally bring up some particularly brave volunteers to participate in friendly competitions, such as "Best Ass" and "Best Boobs." These playful contests helped bring out some hidden confidence in the volunteers. It was through such means that they managed to sniff out the rare straight male in the whole venue and rope him into being a judge for the latter competition. With participants lined up waiting to be judged, Penny asked him the hard-hitting question that no doubt every guy should ponder: "Do you prefer half-and-half, skim, or milf?"
They had won our hearts by the end of the night, what with their humor, flair, and footwear that could put any shoe-lover to shame. But, when ten o'clock rolled around and the promising fluorescent lights of Moe's could no longer be ignored, Penny bid us farewell in order to sate her need for a chicken quesadilla.
The gathering, while small, was representative of a greater cause; not only are all of the night's proceeds going to be directed to benefit the Albany Damien Center, but this was also an important assembly for the pride community. The show attracted a colorful crowd that differed greatly in gender, age, and sexuality. Even after the show was over, I was happy to notice that the audience remained to mingle, a new togetherness having been instilled in them.
For those who missed out on the opportunity, the show's recording will be available on RPI TV's website at http://poly.news/s/7oh1t/.