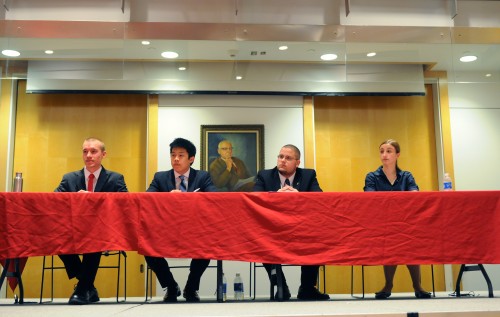 Tuesday in the McNeil Room, the candidates for Grand Marshal and President of the Union answered questions about their platforms for the GM Week 2012 Final Debates. The program consisted of opening statements followed by an hour of prepared questions asked by moderator Reilly Hamilton '12, then an hour of audience questions, and ended with closing statements from each candidate. The event was also broadcast live by RPI TV.
In his opening statement, GM candidate Kevin Dai '14 reiterated three key words for his campaign—inform, involve, and improve—stating his main goal to "improve student life and make the student experience the best as it can be." His opponent, Russell Brown '14, used his own key word—rebuild—as he laid out his three goals: fixing the Student Senate committee structure, cultivating a better relationship with the administration, and restoring student faith in the Senate.
PU candidate Jon Stack '13 talked mainly about improving the Union budget in his statement, also touching on his two years of Executive Board experience and his ideas on committees. The other candidate for PU, Gretchen Sileo '14, explained her goals if elected: increasing E-Board representatives' involvement with clubs and athletics, raising student awareness of how the activity fee is used, and facilitating club collaboration on joint events.
The opening question asked candidates for the first item on their agenda if elected. Stack and Sileo agreed that selecting a strong and diverse E-Board was crucial, both mentioning the current underrepresentation of athletes as an example.
Dai said his first priority would be to regain the trust of the administration, especially after last semester's polarizing State of the Institute Report. "I'll say that student government by itself has no power, and that power comes entirely from collaboration with the administration," he explained. "You need to realize that communication with the administration is crucial to the success of the Senate."
"This is something that I fundamentally disagree with," replied Brown. "The Senate is the representative body for students, and we speak for students and represent them to the administration. That, in itself, is power." He said his first step as GM would be to get input from the student body and campus leaders on restructuring the Senate's committees to better reflect student needs.
"The administration really gets the final say in what is done," Dai returned. "That's why I believe so highly in regaining the trust of the administration. On the topic of joint committees, I think that this is a little unrealistic."
A later question explicitly asked about balancing a strong relationship with the administration while accurately representing student concerns. Brown's response centered around professionalism. "If we do so in a professional way, I believe that we can advocate for students without alienating administrators," he said. "The administrators are willing to listen to us. They are willing to take the Senate seriously."
Similarly, Dai talked about structuring student concerns in a way the administration can support. "I think that the student government and the administration have a symbiotic relationship," he stated. "We have the same goal, and that's to make this school the best it can be, and make the student life the best it can be … we are all on the same page."
Sileo reiterated the point of professionalism, emphasizing give-and-take discussion with administrators rather than "telling them how you want things to be handled." Stack also echoed professionalism, pointing out that the Union staff has years of experience that is worth respecting, but maintaining that in the end, the PU's job is to voice student concerns.
When asked about how well the Union space is currently being used, Stack responded positively. "The space is being used extremely well," he said. "Groups are meeting almost every night in almost every room." He did see room for improvement in making sure that clubs that reserve rooms actually use them, so that other groups can schedule meetings as well.
"I actually believe that we could be utilizing our space better," said Sileo. "I have talked to a lot of clubs and they've mentioned that they would like storage space." She also mentioned that the McNeil room could use better chairs and tables, and that involvement in spaces like the Mueller Center and the Playhouse could be increased. Stack also agreed on improving storage space and McNeil room furniture.
The debate then moved to audience questions, including requests from both the physical audience and those watching on RPI TV via a chat room or Reddit.
One question asked if the PU candidates would consider changing the Union policy for funding religious clubs. Currently, although religious and political groups can be recognized by the Union, they cannot receive direct funding. Sileo and Stack both agreed that the rule would most likely stand; Sileo mentioned avoiding favoritism, while Stack explained that the Union was non-profit and making such a policy change could affect their tax status.
In their closing statements, the candidates gave their final reasons for running.
"I would like to be PU because I am very passionate about what the Executive Board does," said Sileo. "I am involved in these aspects [of student life] and I really think we should have an Executive Board that can be just as involved." She stressed communication with students throughout.
Stack focused on his greater experience in his closing statement. "Through serving on the Executive Board for the last two years, I've gotten a different experience each year," he said. "I think it's important to realize that [this past year] isn't how we normally like to budget, and I think it's important to have the experience to be able to, I guess, understand what a normal year should be."
"By voting for me, you are saying that the current state of student government is not good enough," said Dai. "If you want a fresh perspective on student government, I am the best candidate for this position … if you want an engaging and informed student government, then I urge you to make your voices heard by voting for me."
Like Stack, Brown stressed his strong background. "I have very practical ideas," said Brown. "I know how to implement them because I worked on them. I've seen how the Senate works. I've seen the Senate during high periods; I've seen the Senate during low periods."
Elections will be held on Thursday from 9 am–7 pm in Commons Dining Hall, the Darrin Communication Center, and the Rensselaer Union. Each of the candidates encourages any additional questions to be posted to their "Ask Me Anything" threads on the RPI subreddit at http://reddit.com/r/rpi/.
Video of the entire debate is available on RPI TV's website at http://rpitv.org/productions/463/.