Elections
Narayan and Choiniere win GM, PU races
Three Class of 2023 races will be re-run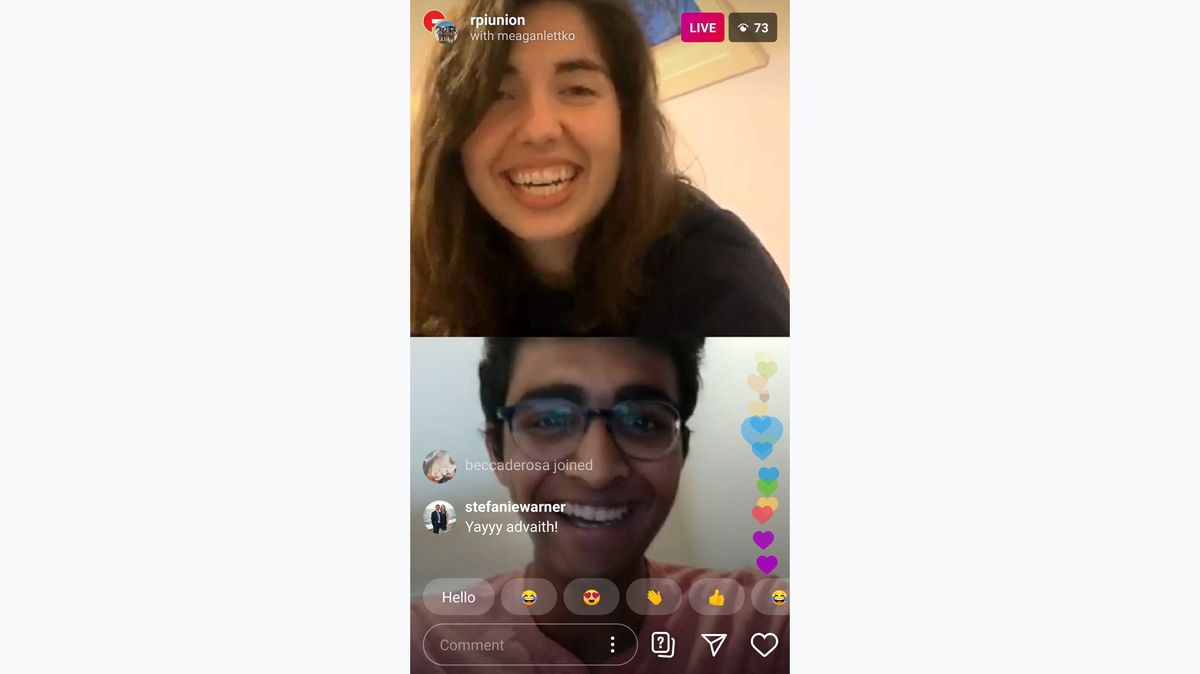 Advaith Narayan '21 and Anissa Choiniere '21 have been elected Grand Marshal and President of the Union, respectively. The announcement was made on a live stream through the Union's Instagram account, and a rundown of the results was sent out in an email shortly thereafter.
The email included a notice that "due to errors made in the election process," which were discussed in Thursday's Senate meeting, the Class of 2023 President, Vice President, and Representative races will need to be re-run. Freshmen will vote for these positions once more "in the coming weeks." The race for the Class of 2023 Senators will not be redone.
This election was the first in Rensselaer's history to take place entirely online, with ballots delivered through the third-party system Simply Voting. The window for voting was 9 am Wednesday to 4 pm Friday, to account for time zones.
A total of 1,825 students cast their ballots this week, which is down from 3,175 during GM Week 2019, and 2,900 during GM Week 2018.
All results as unanimously approved by the Elections Commission can be found below. Winners are in bold. Italics indicate write-ins.
Grand Marshal
Advaith Narayan (1,148)
Marvin Rios (562)
President of the Union
Anissa Choiniere (1,673)
Undergraduate President
Evan Lazaro (1,110)
Chris Boyd (405)
Independent Senator
Cait Bennett (1,043)
Aloni Jordan (931)
Greek Senator (Interfraternity Council)
Christian Winicki (385)
Greek Senator (Panhellenic Council)
Remi Kirrene (390)
Alumni President
Vish Gopalakrishnan (575)
Alumni Vice President
Emily Stiklickas (453)
Tejas Narayan (147)
Alumni Secretary
Rebecca De Rosa (42)
Michael Russo (38)
Sanjana Davuluri (10)
Alumni Treasurer
Mackenzie Laird (21)
Thomas Reber (13)
Nirav Patel (11)
Class of 2021 President
Lisa Sulmasy (357)
Class of 2021 Vice President
Ben Longchamp (355)
Class of 2021 Senator
Jacquelyn LeBlanc (293)
Annabel Antonini (292)
Colleen Corrigan (290)
Jessica Penny (285)
Class of 2021 Representative
Taylor Travis (298)
Leah Gabler (291)
Alexander Karalokian (281)
Emma Lewis (5 )
Alexandre Ait-Ettajer (3)
Andrea Choi (3)
Luke Trainor (3)
Nicolas Pezzullo (3)
Class of 2022 President
Chevy Chen (196)
Class of 2022 Vice President
Parker Shawver (190)
Class of 2022 Senator
Jeffrey Chai (119)
Zoe Stetson (115)
Galilea Olvera (107)
William He (97)
Class of 2022 Representative
Cristina Contreras (144)
Jeffery Chai (143)*
Jayson Mintz (122)
Noah Prisament (120)
Chloe Esperance (4)
Akanksha Singh ( 4)
Deepika Kothakapa (2)
Isabella Janssen (2)
Benjamin Madnick (2)
William He (2)*
*[Editor's Note]: Jeffry Chai and William He received votes for both Class of 2022 Senator and Class of 2022 Representative. They both have indicated that they will decline the representative position, which will prevent a runoff election for Class of 2022 Representative.
Class of 2023 President
Unresolved
Class of 2023 Vice President
Unresolved
Class of 2023 Senator
Nicole Gramenides (268)
Sean Lisk (238)
Alexander Patterson (238)
Evan Wadley (230)
Class of 2023 Representative
Unresolved
Graduate Senator
Neha Keshan (170)
Gretchen Clark (6)**
Erim Yanik (6)
Audrey Beard (4)
Lauren Gandy (4)
Jacob Kowalski (4)**
Graduate Representative
Sagar Bhatt (141)
Kristoff McIntosh (139)
Gretchen Clark (16)**
Evelyn Rugabear (5)
Genevieve Kane (4 )
Cody Edson (2)
Donovon Weiblen (2)
Jacob Kowalski (2)**
Kiedric Berry (2)
**[Editor's Note]: Gretchen Clark and Jacob Kowalski received votes for both Graduate Senator and Graduate Representative. Depending on which position they each choose to take, a runoff election may have to be run for Graduate Senator and/or Graduate Representative.
Faculty Senate Tenure and Promotion Committee Position
David Goldschmidt (4)