Student Senate
Free textbook library discussed, chairperson appointed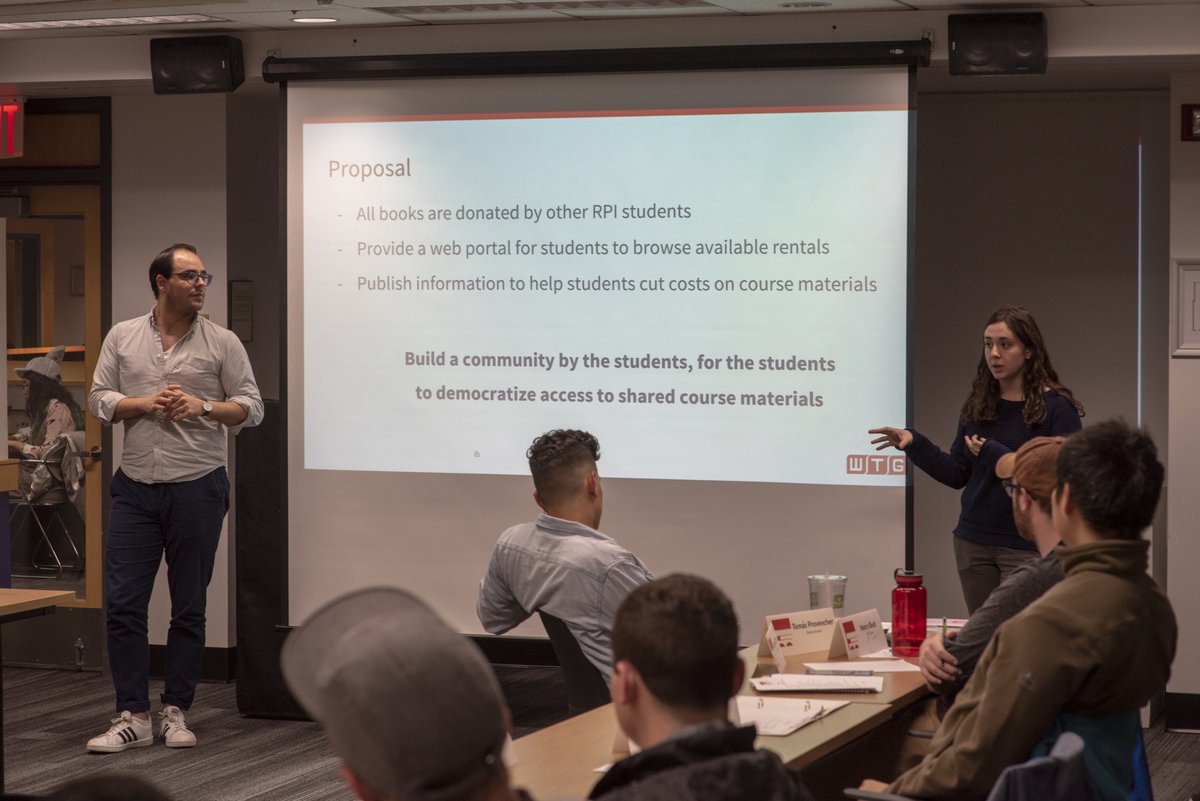 On Monday, October 15, the 49th Student Senate convened to discuss a free textbook library service proposed by the Web Technologies Group and vote on the appointment of the chairperson for the newly created Diversity and Inclusion Committee.
WebTech Chairperson Grace Roller '20 presented an initiative which would allow for students to donate their textbooks an open library. This initiative was spearheaded by Rensselaer Center for Open Source Coordinator Alexander Schwartzberg '19. He plans on working with WebTech and Alpha Phi Omega—a service fraternity located on on the third floor of the Union—to provide an online portal and storage space for people to donate to and borrow books from a completely free library. The library would comprise of books donated by other Rensselaer students, which would be rented out to interested students for up to one semester for free.
Some people in the room were concerned with how the proposed library would play as a Union-endorsed service, as it could potentially compete with the rental services offered by the Rensselaer Collegiate Store. 63 percent of the Union's income for fiscal year 2019 came from the Collegiate Store.
Vice President of the Executive Board Anissa Choiniere '20—who works at the Collegiate Store—said that the "success of the Collegiate Store directly affects the financial success of the Union … naturally this will help students, in the short term, save money, but in the long term it's going to directly impact the activities and the recreational success that people can have here."
The new business for the day was to vote on the appointment of Marvin Rios '20 as chairperson of the Diversity and Inclusion Committee. Rios shared that he is involved with Greek life, the Society of Hispanic Professional Engineers, Alianza Latina, the Philippine American League, the National Society of Black Engineers, and the Black Student Alliance. He currently serves on the Executive Board and is a mentor for some of the listed clubs. He stated that his main goal for the new committee would be to "create a centralized location that aims to foster a safe environment for all communities." He later said that he wants "to improve the transparency between our students and the school administration with regards to the true struggles different communities face."
When asked about his relationship would be with the new Bias Assessment and Review Team, Rios responded, "Everyone who has been hired for BART has only been around for six months or less—maybe two weeks. They don't know what they're doing, and they don't know the situation here on campus. So, I feel that this committee can help assist."
The meeting of the Senate ended with the appointment of Marvin Rios as the Diversity and Inclusion Committee chairperson with a vote of 18-0-1.
The Student Senate meets every Monday at 8 pm in the Shelnutt Gallery.