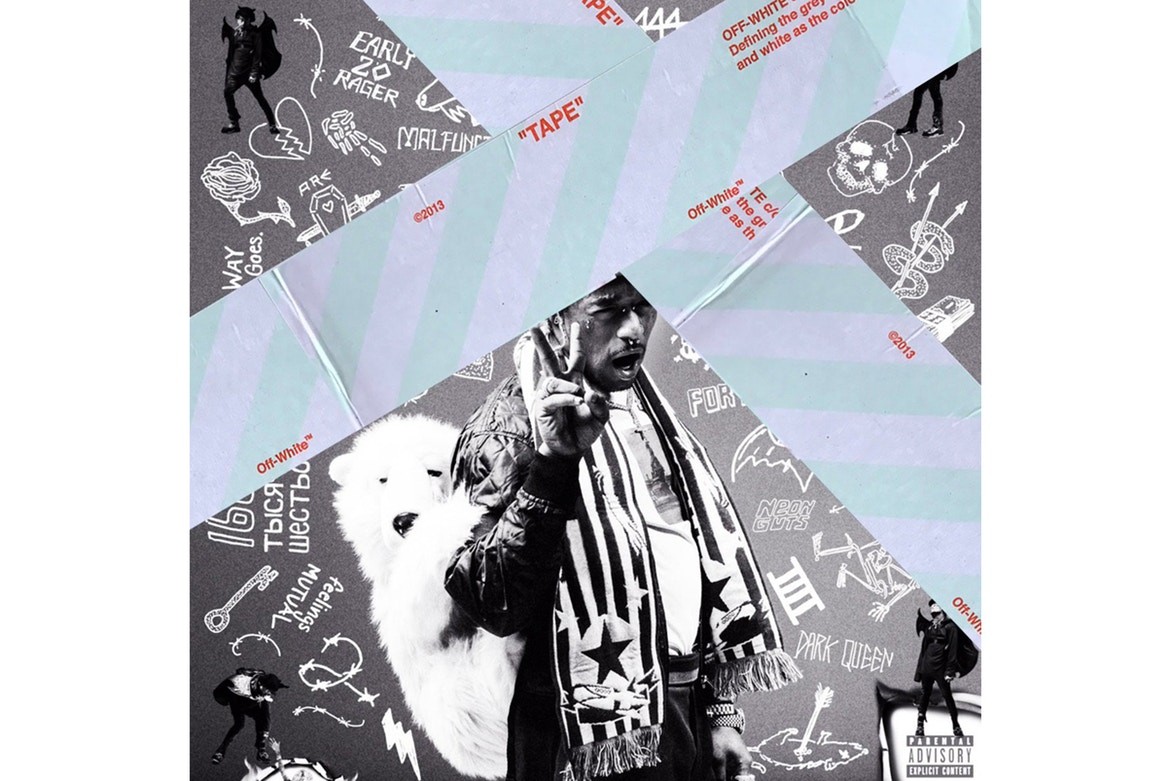 LUV IS RAGE 2 SPEEDS to the top of the charts as Lil Uzi rides on the success of his debut.
In the world of rap, a perfect album is very rare. Most albums are near-perfect and chock-full of the artist at their best, but with the inevitable two or three tracks that go in a different direction to show the artist is "multidisciplinary." They know what their strengths are, and they aren't afraid to branch out. Luv is Rage 2, Lil Uzi Vert's debut album, is an amazing example of this. First appearing on my radar with his 2016 mixtape Lil Uzi vs The World, and then being put onto XXL's 2016 Freshman list, Uzi has had ample time to refine his music and get his name out. His stint in the spotlight after a high profile feature on Migos' "Bad and Boujee" only increased the young rapper's following, and furthered the hype for his first actual album. The hype was so unreal that a teen in Florida threatened to shoot up his school if the album wasn't dropped in May, though luckily neither happened. Coming out in late August, Luv is Rage 2 took the charts by storm, and in my opinion, it rightfully deserves its praise.
The first track that people associate with Uzi, the track that preceded the album by several months and was the harbinger of the album's hype, is surprisingly tucked away as Luv is Rage 2's last song. On "XO TOUR Llif3," Uzi defines the genre of mumble rap, and outlines a template that most rappers have since grown accustomed to. A foreboding instrumental ushers in a low drum beat, on which Uzi's half-whine, half-mumble chorus takes root, and enthralls the listener to continue with the song. It then transitions to more standard, fast-paced vocals, which end up being a pivotal component to the album. The way in which Uzi manages to blend different styles of music into one song is extraordinary; not only is it rap, but there are traditional elements of pop and even emo vibes in it. I first heard this song last year, when I was living in freshman dorms, and it has not grown stale or lost its appeal to me. With 400 million plays on Spotify alone, I feel like this is the song that will stay with Uzi throughout his career.
The rest of the album takes the experimental success of "XO TOUR Llif3" and commercializes it, creating offshoots of the same sound but going in far different directions. For example, the song "The Way Life Goes" takes a similar intro, but makes it more uplifting, and overlays a more melodic set of vocals. Talking about a breakup in a way that suggests he understands life will get better, Uzi approaches a sad topic in a hopeful way. In complete contrast to that message is the song "X," which further extrapolates on "XO"'s style. The intro is much faster and frantic, the vocals are harsher and higher pitched, and the drums relay a deeper bass as Uzi talks about how much he hates being dumped and how he's better than his ex. The tone has taken a complete 180, and the song is written for those who chose to move on from heartbreak rather than let time heal their wounds. Both songs are good examples of taking an initial successful idea and molding it into viable offshoots that can continue to function properly.
There were some songs, however, that I only understood after a few listens. For instance, on my first playthrough of Luv is Rage 2, I didn't enjoy "Neon Guts." I felt like it detracted from Uzi's established dark and romantic persona, and that it was unnecessary in the album as a whole. I now see that it is exactly the opposite: a bubbly, playful jab at rappers who can't see through their own edginess. Uzi, as well as guest Pharrell Williams, genuinely have fun on the track, and with rhymes like "Higher than Elon Musk, so high stars eat out dust / And I got a colorful aura, like I got neon guts" and "Got Dior discounts from my cougar … I was in love with my tutor," the two get listeners smiling. I feel like a break from the established mood of the album is necessary, and what "Neon Guts" provides is more than enough for a quick breather before diving back into being serious.
With that being said, there are a few things Lil Uzi Vert isn't fully proficient at, and they stick out like a sore thumb. At the end of the album are two slower songs, in which he tries to experiment with slowing down the mood completely. One of them, "Malfunction," is a good attempt but ultimately falls short in its execution. It just feels out of place in the fast-paced world of Luv is Rage 2, especially after the smash hit of "X." The other chilled song, "Dark Queen," is not as slow, but still out of place. Its intro blends sadder instrumentals with trap-esque drums, creating a dissonance that doesn't fly one way or the other. Towards the end, he transitions from singing to talking with autotune, which feels forced and unnecessary. The redeeming factor with these two songs is that they are followed by "XO TOUR Llif3," causing the album to end on a high note. At the end of the day, that's what most listeners will remember.
As mentioned previously, Luv is Rage 2 falls just shy of being a perfect album. It has just the right amount of seriousness, dealing with matters of broken relationships and tough beginnings. At the same time, it doesn't take itself too seriously, and gives the listener enough upbeat music to give them hope. Compared to XXXtentacion's 17, which I talked about in my previous album review, this album feels more complete. In my opinion, it is better to make a well-rounded, if not as in depth, album than one that hones into a specific idea in so much detail that it becomes excruciating. Lil Uzi Vert has a smash hit on his hands with Luv is Rage 2, and if a third iteration of the album comes out, I can't wait to see what ideas he plays with next.