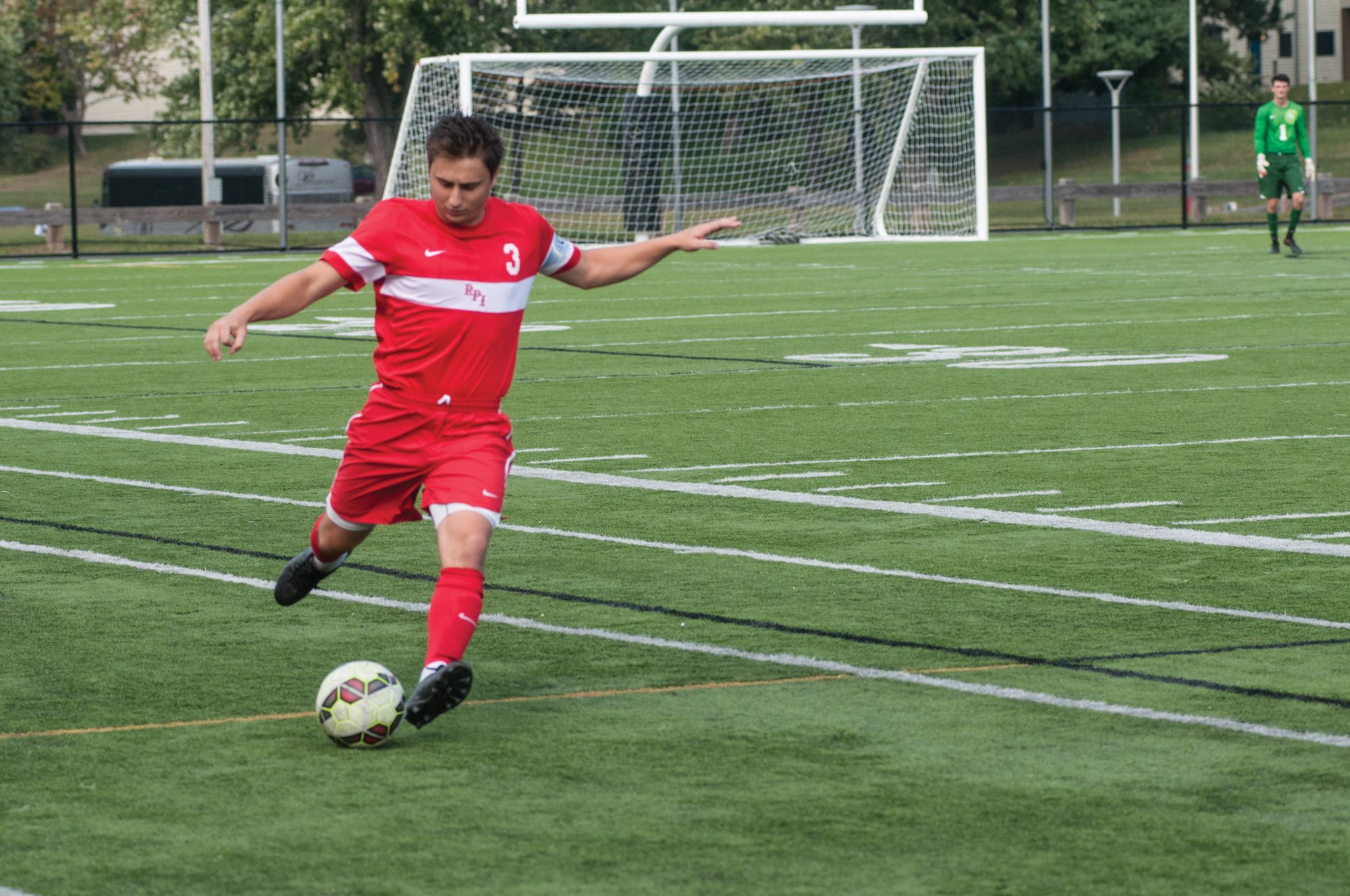 THE MEN'S SOCCER TEAM MANAGED to take a lead in the first half of their game, but ended with a tie.
Opening their seasons with a game lasting 110 minutes, the Rensselaer Engineers and the Sage College Gators men's soccer teams ultimately surrendered to each other in a draw after the 1-1 tie could not be broken in two ten minute periods of overtime.
Just two minutes into play, senior forward Gabe El-Ghandour gave RPI a 1-0 lead that would last well into the second period. The Engineers refused to allow Sage to boomerang back from their deficit in the first half, limiting their shot attempts to a mere two. Meanwhile, RPI managed eight shot attempts during the 45 minute timespan. Two came close, both flying high: one from senior midfielder Devon Baughen, and one from sophomore midfielder Danny Corridan.
The sides were more equally matched in the second half, but at 77:34 of play, the Gators collected a goal thanks to a kick from Sarpong Adjei off of Paul Reynoso's drive up the right side. The resulting tie remained fixed through overtime with each team on par with each other. The closest the Engineers came to reclaiming the lead was through a shot from Corridan, which carried wide of the right post.
On Saturday, the men found greater fortune in their match against the Pioneers of Utica College. Posting a 2-0 victory, the Engineers improve to one win, one tie for the season, dropping Utica to 0-2.
Baughen, the game's top scorer, fired his first goal as a penalty kick in the second half of play following a scoreless first period. One minute later, he turned around to perform the same tactic, scoring the final goal of the day. Twenty four shots overall were attempted by the Engineers to Utica's zero. Playing defensively did not pan out well for the Pioneers.
This weekend, the City of Oneonta's Mayor's Cup will feature several men's and women's teams competing in the two-day tournament. RPI will enter the competition against Manhattanville College in Oneonta, N.Y. at Wright National Soccer Campus on Friday, at 1 pm. On Saturday, they will face Dickinson College at 1 pm.