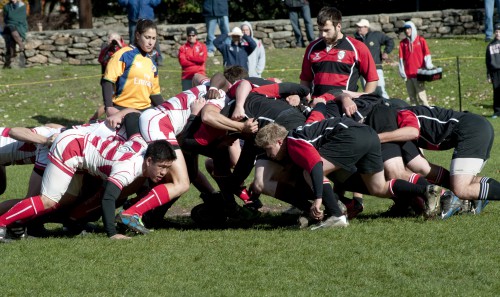 RPI RUGBY HAD a strong showing at the Tri-State Conference Finals, but fell in the USA Rugby Division II National Round of 16. (file photo)
Rucking, scrumming, and mauling the ball since 1992, the RPI men's and women's rugby teams make up one of the 27 Rensselaer Union-sponsored competitive club sports on campus. After conquering the field with a 29-22 win over Molloy College on November 8 at the Tri-State Conference Finals at Vassar Farm in Vassar, NY, placing first out of six teams in the North Division, the men received a bid to play at the USA Rugby Division II National Round of 16. Facing the University of North Carolina at Wilmington in the opening game of the two-day South Region Conference on November 21 at East Carolina University in Greenville, N.C., the team played hard, having ascended high in the ranks. Unfortunately, this would be their last game of the year; they lost 32-8.
Starting the first week of school, the men's rugby team met at Anderson Field for practice from 8–10 pm on Monday, Tuesday, and Thursday. Around 40 students attended at first, but due to the team's "come and go as you please" policy, interested players departed from the team as the season progressed. 24 were registered for the Round of 16, where 15 played and eight were substitutes.
Cormace, this year's team captain, played football and soccer in high school, while Howard, a former team captain, enjoyed lacrosse and football during those years. Both discovered the rugby team during Navigating Rensselaer & Beyond Week as freshmen, and have been competing every year since.
"We had so much success [this season]," said Cormace. The team won every game they played this year except for their first one against Siena College away on September 5. "After Siena, we finally got our roster set," said Howard. "We didn't face any stiff competition until playoffs."
Howard spoke fondly of Coach Cody Clifford '15, a former RPI Rugby player who was inducted this year to replace the former coach who left last year. "He really knows our team … he knew exactly what we needed to work on," said Howard.
The largest win of the season came on October 25 in the Tri-State Conference Quarterfinals when RPI challenged Montclair State University. Following the opponent's eradication, the score read 62-12.
The schedule for spring has yet to be announced by Rugby's Match Secretary; however, there will be tournaments taking place during that time. To learn more about RPI Rugby and keep up to date on what the teams are doing, visit their website at http://rugby.union.rpi.edu.