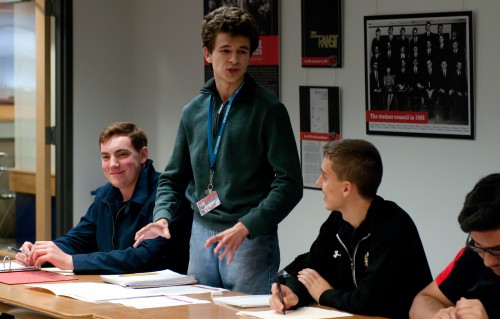 JOHN FANTELL '19 INTRODUCES himself to the E-Board. Fantell was appointed to the position of Member at Large before the Senate questioned if the appointment was legal.
Last Thursday's Executive Board meeting consisted of the importance of club budgeting and how the individual E-Board representatives should go about perfecting it, introductions of the new freshman members, and a presentation made by the Union Annual Report committee.
To begin the meeting, Financial Coordinator Martha McElligott opened with a presentation coaching the E-Board club representatives on the fine details concerning their clubs' budgets. Most importantly, she encouraged them to acknowledge that the administration budgets would be reviewed in December and to start expediting the process of creating budgets. Other important guidelines included understanding the purpose of the clubs, mainly their necessities, and knowing what can be cut out from a budget, and what will be absolutely necessary for functionality. This can only be accomplished if representatives maintain a frequent meeting period with their clubs and have a thorough understanding of the club's inner-workings. McElligott demonstrated through the Rensselaer Union website, the online processes by creating an athletic budget as an example for the representatives to follow.
After an hour's worth of budget-making training, the newly minted freshmen members were introduced. Matthew Beaudoin '19, majoring in Chemical Engineering, and a Member at Large, is from Windsor, New York and participates in club Frisbee. John Fantell '19, dual majoring in Business Management at ITWS, and a Member at Large, is from the heart of central New Jersey, and enjoys Korean martial arts and has been participating in it for five years. Matthew Rand '19, majoring in Materials Engineering, and the Class of 2019 Representative, is from Connecticut and a member of club lacrosse. These new members will remain non-voting members due to constitutional disputes. Until their suffrage is appointed, their responsibilities are to help with a peripheral budgetary group, which entails working with a current E-board representative and learning the requirements of the position.
Committee of the week, Union Annual Report committee, gave a report concerning its plans for after budgeting, which includes reporting to the Senate for approval of the UAR and aforementioned budget. Committee representatives explained their intent on making UAR the face of the Union and what it does. They have plans to design a new layout for their report, increase the verbal representation of data, and make it a much clearer and easier to read document.
The meeting adjourned with announcements and reminders for representatives to meet with their clubs. Trailing the close of the E-board's official business, Chris Hoskins '16 brought to attention plans for a wellness and health event taking place this coming February. The purpose of his report was to let the E-board know of the event's committee's intent of asking for the reallocation of funds. It was not an official appeal however, and no official motion was made.