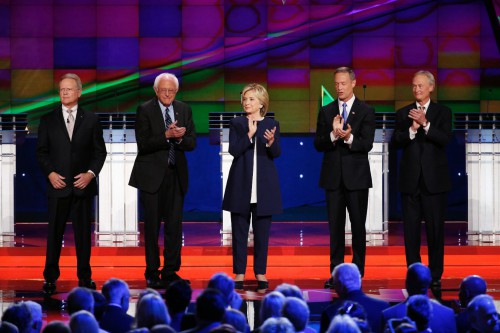 DEMOCRATIC PRESIDENTAL CANDIDATES LAUNCH the debate with warm welcomes.
As the United States draws closer to the upcoming presidential election, the democratic Party has found itself in limbo; while the Republican Party has found clear leaders in the preliminary elections, liberal voters have seen a wider spread in candidate choice. This Tuesday's Democratic debate has provided an avenue for voters to compare both a candidate's platforms and presence in a side by side setting.
Prior to the debate, Senator Bernie Sanders of Vermont had been expected to overcome Hillary as the frontrunner in the Democratic primaries; Sanders stands for widespread reform, and his plans to make public education free have been popular with young voters. However,it became clear that Senator Sanders wasn't as well equipped for a debate setting as some of his rivals; Sanders has been incredibly successful in delivering impassioned speeches at rallies, but his stage presence fell flat when he was face to face with fellow runners.
Hillary Clinton, on the other hand, took advantage of her previous experience as a presidential candidate and presented herself as poised, well-spoken, and informed on stage. The former Secretary of State managed to cast herself as a reformer, an image that she had previously sacrificed to more radical candidates. Clinton stands out against her competitors in experience; despite being one of the youngest candidates, Clinton has served as both the First Lady and the Secretary of State.
The other three candidates, Governor and Senator Lincoln Chafee of Rhode Island, Senator Jim Webb of Virginia, and Governor Martin O'Malley of Maryland, all struggled to keep up with the rapid-fire debate; while each of these candidates lie behind Clinton or Sanders in the polls, this debate could have been the spark that ignited a campaign. While O'Malley was able to make interjections in the debate, he never appeared to land a serious blow that could have put him in the race as a serious competitor.
Discussion of gun control stood out as a divisive issue, as Clinton accused Sanders of being too lenient with his standards for gun ownership. In light of several mass shootings, Sanders' vote against the stricter gun legislation of the Brady Bill could ultimately be detrimental to his campaign. Clinton, on the other hand, has made it clear that she intends to impose stricter sanctions on gun purchases; in her words, "it is time the entire country stand up against the NRA".
While many critics have claimed that Hillary won the debate, the general public seems to be drawn towards Sanders' sense of radical reform. Despite Clinton's sensibility, the polls have shown a clear desire for changes within the government that Clinton has fallen short on. Sanders has proven himself to be an informed, honest, and conscientious candidate, but party leaders have considered that the senator may be simply too radical to capture the popular vote.
While the Democratic presidential debate has been an integral part in the upcoming election, this particular debate has only helped secure Clinton's position as the frontrunner for the nomination. In her words, "I am campaigning because I think I have the right combination of what the country needs at this point, and I think I can take the fight to the Republicans because we cannot afford a Republican to succeed Barack Obama as president of the United States."