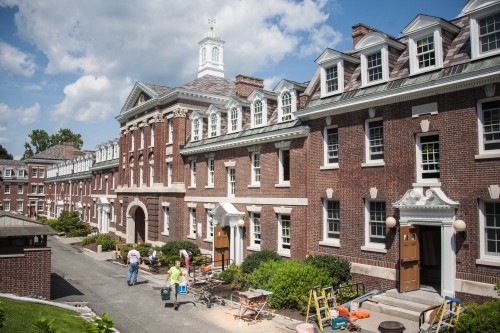 CONSTRUCTION WORKERS MOVE in and out of Quad Residence Hall during the summer renovations. Phase I is currently underway, with phase II scheduled for next summer.
New renovations in Quad Residence Hall will update some of the 100-year-old facilities with dorms receiving their first major overhaul since the 1970s, and almost everything but the internal walls are being replaced.
Duncan and Cahill, Inc., a Troy-based company, was hired by the Institute for the renovations which include new windows, bathrooms, sheetrock and plaster, paint, and furniture. The company was hired by RPI in the past to renovate the Rensselaer Apartment Housing Projects and "improve campus compliance with the Americans with Disabilities Act," said Duncan and Cahill project superintendent William Bornt.
"The renovations over the next several years will help to update Quad and make it even more desirable for students to live in," said Kyle Neumann '17, Class of 2017 president and former two term Quad Hall Council chairman. Neumann lived in the dorms during his freshman and sophomore years, and he plans to live in them for the 2015–16 year. Other past Quad residents attributed its popularity to its proximity to academic parts of campus.
The hall is broken up into 19 stacks, each with its own entrance. Several pairs of the stacks connect on the top floor. Officially called The Quadrangle, its name is a bit of a misnomer as the buildings form a three-sided shape with 18 of the stacks, leaving Church VI alone near Russell Sage Dining Hall. According to RPI folklore, the Quad was actually intended to be a quadrangle, but Rensselaer couldn't find enough donors after whom to name the stacks. Because donors wanted the prominent locations, i.e. the corner stacks, Church VI was paid for. No buildings around it could be funded, so it was left alone as a standalone building.
This summer's project is phase I of the Quad renovations and includes Quad stacks White I, II, III, and IV and Hunt I and II. Phase II will be undertaken next summer.