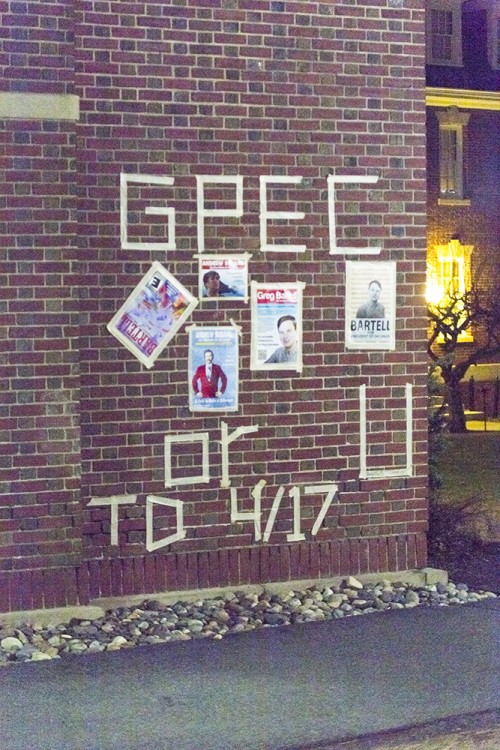 The tape sign after vandalization. In the linked video, Andrew Sudano '17 can be seen tearing strips of tape off of the sign on the end of Quadrangle stack Church V.
Update (9:43 pm, April 16)
Sean Waclawik '18 has released the following statement:
Community of Rensselaer,
In light of the recent events I would like to explain what happened regarding candidate Greg Bartell's poster and my involvement. First, I would like to sincerely apologize for what happened that night. What happened was completely unacceptable for anyone seeking authority in any office. Second, I do not approve of anyone tampering with anyone's campaign material. I know as well as anyone how frustrating and demeaning it is to have your posters stolen or destroyed. Most of my posters were missing or just ripped up and left on the ground within a matter of days after posting. I want to explain what happened that night, not to provide excuses, but shed light on the events of that night.
Earlier that night, Steve Sperazza and I decided that we would put up a second round of posters for ourselves to make up for all the ones that were removed. We invited our friend and fellow candidate Kayla Cinnamon to come along for the walk and talk while we postered. In the DCC we ran into Sudano who also was postering who asked if we would come along with him. After putting up several posters, we eventually came to the wall with the Bartell's tape sign. I was told directly by Sudano that he had permission by the head of the Judicial Board to remove the tape sign as it was not a legal poster. What followed is well documented in the video released by RPI TV and shows that we (referring to myself, Steve, and Kayla) did not tamper with Bartell's sign in anyway nor encourage Sudano's actions. However, I am ashamed of myself for not taking action to prevent the removal of Bartell's campaign material.
We believed at the time that Sudano had authority to remove the tape, and did not interfere. I wish things went differently that night, and I am sorry that Greg had his material wrongfully removed. I know personally how it feels to have your campaign materials tampered with. I sincerely apologize for any doubt cast on the hard work done by everyone in student government due my part in this event. I want this statement to go into the records for all to see long after my career at RPI is over. I hope this will shed light on the events of that night, I hope that student body will better understand what happened that night, and I sincerely apologize for what took place.
Respectfully,
Sean Waclawik
Steven Sperazza '18 has released the following statement:
To the members of the Student Union,
As a majority of you are aware, I was recently involved in a postering incident involving Andrew Sudano and several others, namely Sean Waclawik and Kayla Cinnamon.
On Monday night, Waclawik and I were out doing some final postering and Cinnamon decided to come along to help. After completing our intended postering on the Darrin Communications Center, we ran into the President of the Union Candidate Andrew Sudano.
Sudano asked us to help him finish his postering, and being members of the party we agreed. After a short walk, we arrived at Quad, where the taped campaign advertisement for Greg Bartell in question was located. Waclawik, Cinnamon and I were told that the sign was not put up in accordance with the 2015 GM Week handbook written by the Rules and Elections Committee and that Sudano had permission from Judicial Board Chair, Anthony Barbieri, to remove the poster.
Waclawik, Cinnamon and I did not remove any tape, however we did not stop Sudano from removing tape either. Regardless of if I am re-elected, I would like to apologize to the Greg Bartell campaign, the constituents that I represent, and all students of Rensselaer Polytechnic Institute for my inaction and misplaced trust.
Regards,
Steven Sperazza
Class of 2018
Update (5:22 pm, April 16)
Kayla Cinnamon '18 has just released the following statement:
Dear Editorial Board of The Rensselaer Polytechnic and the Rensselaer Community,
In light of recent events, I would like to share my experience during the Monday incident regarding PU candidate Greg Bartell's tape removal. At the start of the night, I was helping Steven Sperazza and Sean Waclawik hang up their posters. Along the way, we met Andrew Sudano in the Darrin Communications Center, who was also hanging up some of his posters. Then, we started to walk around campus together.
Sperazza, Waclawik and I were having our own conversation when Sudano removed tape from Bartell's advertisement. I was told by another candidate that the signage was illegal and would be removed by Rules and Elections the following day, which is why I did not protest. Sperazza, Waclawik, and I did not remove any tape, nor tamper with any signs; we were simply present, as was evident in the video captured by RPITV. I now understand if the tape was questionable, it should have been reported and left to Rules and Elections to address.
I would like to formally apologize to Bartell, current and former members of A Stronger Union party, and the campus community for this whole incident.
Sincerely,
Kayla Cinnamon
Update (10:12 am, April 16)
At 9:30 am on April 16, PU Candidate Andrew Sudano '17 released the following statement to us:
To the Rensselaer Community,
I would like to sincerely apologize for the situation that took place on Monday night. I take full responsibility for my actions, and I hope that, in time, I will earn back your trust. I have no excuse. I can ensure you all that what I did that night will never happen again. I have always been committed to bettering the student body, and I apologize for my lapse of judgment.
Sincerely,
Andrew Sudano
Update (11:42 pm, April 15)
GM Candidate Michael Han '16 released the following statement regarding the incident:
"To my fellow Rensselaer classmates,
It saddens me to see that a fellow candidate's posters were tampered with; this type of behavior cannot be tolerated. To clear the air, I was not involved with the event that occurred on Monday night or any instance of poster take-downs that may have occurred during campaigning. I became aware of the situation when it was reported on and had no knowledge of the matter until then.
I support the sanctions levied by the Rules and Elections Committee because our Student Union was founded on the free and open expression of opinions and beliefs, no matter what they may be. I encourage everyone to stay informed and vote for who you believe is the best candidate for the job tomorrow."
Update (10:47 pm, April 15)
The Poly asked Bartell for a statement regarding this article and he released:
I'm disappointed with the conduct of some of the participants in the election process, but I'm not going to allow this to change the focus of my campaign or the change of direction I believe the Union needs.
Update (8:02 pm, April 15)
The Rules & Elections Committee has released a statement:
In light of evidence which was brought to the Rules and Elections committee by members of the Union,
Based on what was done by the candidates in the video, taking into account that another candidate's campaign material was partially removed,
The following candidates are in violation of the GM Week 2015 Handbook, and cannot actively campaign, be actively campaigned for, and cannot post any new campaign material, effectively immediately at the issuing of this decision:
Andrew Sudano
Sean Waclawik
Kayla Cinnamon
Steven Sperazza
Further, the party, A Stronger Union may not actively campaign as a party following the issuing of this decision.
Approved: 5-0-1
Members Present: Paul Ilori (chair), Michael Hoherchak, Anthony Barbieri, Jacob Derechin, Paul Blejwas, Melanie Todis, Tim Breen
Original Article:
Last week, President of the Union candidate Gregory Bartell '17 approached RPI TV with concerns that some individuals may be tampering with some of his campaign materials posted around campus. Bartell had previously brought the matter to Dean of Students Mark Smith, who was looking into the matter. Bartell believed that those tampering may have been students who are candidate assistants and members of opponent Andrew Sudano '17's party, "A Stronger Union." Bartell provided circumstantial evidence regarding the matter but was not able to produce anything conclusive. This prompted a more detailed investigation by the members of RPI TV. The Polytechnic and RPI TV made Smith aware of the issue and of the evidence collected on April 15. Judicial Board Chairman Anthony Barbieri '15 and Rules & Elections Chairman Paul Ilori '17 were also notified. The Judicial Board will be handling future procedures regarding the matter.
A camera was set up looking out on the Quadrangle lawn towards the '87 Gym, which recorded postering activity on the night of April 13. Earlier in the week, Bartell's campaign had constructed a large sign out of masking tape on the side of the Quad stack Church V, which read "GREG For PU, TD 4/17." The next morning, this sign had been vandalized to read "GPEC or U, TD 4/17"
From footage captured on the camera covering that area of campus, two separate individuals purposefully removed strips of tape to cause the vandalism. From time-stamped images taken by RPI TV, the sign can be seen to be intact as late as 10:24 pm on April 13. The first event occurred at 10:24:20 pm in the video. A number of "A Stronger Union" party members, those who can be identified in the video as Sudano, Kayla Cinnamon '18, Steven Sperraza '18, and Sean Waclawik '18, along with a few unidentified individuals, were postering around Church V and the '87 Gym. Additionally, Kirk Bittner '16 was among the group but is not a member of "A Stronger Union."  In the video, Sudano stepped directly up to the wall which contained the Bartell sign and ripped down multiple pieces of tape, discarding them on the ground. It appears Sudano removed the tape strips in the diagonal of the "R," and the arm of the "G" in "GREG."  The group of "A Stronger Union" party members then mingled around the staircase leading down to academic buildings before departing towards 15th Street. When they walked by the wall containing Bartell's sign, Sudano pointed at the wall and spoke directly to his companions.
Later, at 10:46:30 pm, another individual appears in the camera frame and once again begins to remove strips of tape from Bartell's sign wall, this time removing the entirety of the "F" in "For", and the "P" in "PU." At this time, we are unable to identify this individual, so it is not clear whether he is associated with "A Stronger Union" or Sudano.
The video angle did not contain the face of the wall; however, later photos from less than a half hour later show the sign as having been vandalized. During that time period, no other individuals approached this wall, as confirmed by the RPI TV video footage. The footage can be found at http://poly.rpi.edu/s/s66jh/.
This action by Sudano and his party violates Grand Marshal Week 2015 Election Handbook, Section Six, Rule 12 which states: "Respect other candidates and their campaigns. Do not tamper with or poster over other campaigns. Do not place tape over tape securing the signs of other candidates." It also violates Handbook Section 11 – Honor Code, the text of which begins with: "Every candidate running for a Student Government office has an obligation to observe and uphold basic principles of decency, honesty, and fair play so that students may exercise their constitutional right to a free and informed choice that expresses their will. Student Government office is a campus-wide trust." The Handbook can be found at http://poly.rpi.edu/s/gmweekhandbook2015/.
Ilori has called an emergency meeting of R&E, to determine how to move forward with the debates that take place tonight, April 15, at 7 pm, and the general election which is scheduled for tomorrow, April 16.
This event comes a year after a number of student government officials were recorded tearing down posters promoting a "No" vote on Constitutional amendments, during GM Week 2014.
Updates will follow as more information is released.