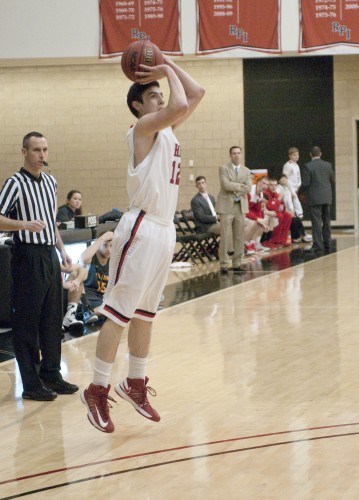 SENIOR GUARD JOSH DUGAS SHOOTS the ball in file photo from the December game against Williams College. RPI won over Vassar Tuesday.
Junior forward Chase Almond scored 20 points and grabbed eight rebounds to lead the way for the Engineers in their Tuesday night confrontation with the Vassar College Brewers. On the strength of a 19-3 run to pull away from Vassar at the end of the first half, Rensselaer dominated the final 30 minutes of action and won by a final margin of 78-50.
The Brewers started well, making three of the first four baskets to take an early 6-3 lead. Almond then quickly negated the Vassar advantage, scoring on a 3-point play to tie the game. Midway through the first half, a 3-pointer by sophomore guard Jonathan Luster put the Engineers ahead 15-10. With 7:28 left in the first half, junior forward Tyler Gendron knocked in a 3, assisted by junior forward Brian Hatcher to put the home team up by nine.
The Engineers continued to pile up the points on their dazed opponents throughout the rest of the first half. With nine seconds remaining, junior forward Craig Fitzgerald stole the ball from guard Jesse Browne and passed the ball ahead to Hatcher who finished the play with a dunk to give RPI a 34-16 lead at the break.
The Rensselaer onslaught continued in the second half. With 14:23 left, sophomore guard Nate Kane made a layup assisted by Hatcher to put the Engineers in front 48-24. For the next six minutes, the two teams matched baskets. With nine minutes left, Hatcher knocked down a 3-pointer to give RPI a 62-38 lead. Mid-range jumpers by senior guard Josh Dugas and Almond gave the Engineers a 28-point lead.
With 2:36 remaining, and the game all but over, freshman guard Asa Barnhill drained a 3-pointer to give RPI its largest lead, 76-46. The game ended in a 78-50 blowout win for Rensselaer.
For RPI, Gendron scored 15 points and grabbed four boards. Hatcher added 13 points, five steals, and four rebounds. Kane led the team with four assists.
Guard Erikson Wasyl scored 13 points to lead Vassar. Forward Alex Snyder grabbed six rebounds to go along with his 10 points. Forward Luka Laden led the Brewers in rebounds with seven, and added eight points and two assists.
In victory, the Engineers improve to an overall record of 6-13 while the Brewers fall to an identical record. Next up for Rensselaer are away games this weekend at Rochester Institute of Technology and Hobart College.