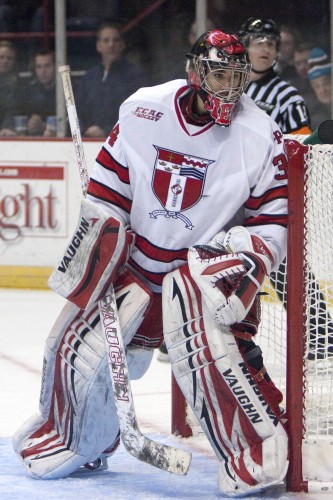 HOCKEY JUNIOR GOALTENDER SCOTT DIEBOLD IS this week's pick.
Scott Diebold, a junior goalie for men's ice hockey, rallied an incredible 30 saves during the last home game of the season against rival Clarkson University. Diebold's amazing goalkeeping skills led two of his glove saves to be selected as number one on NCAA Men's Hockey Top Five Plays of the Week. His current overall save percentage is .914, with a total of 786 saves.
Diebold, referred to as "Scotty" by Coach Seth Appert, has been instrumental in the team's record this year, after he was more-or-less thrust into the spotlight after former starter and sophomore goalie Jason Kasdorf dislocated his shoulder during a practice around the end of October. As reported in our special Hockey Highlights insert in late November, Appert was pleased with Diebold being a go-getter before his commonplace appearances, never "sit[ting] around and feel[ing] sorry for himself that he wasn't playing."
The Athlete of the Week award is a new feature that will spotlight an in-season athlete who has demonstrated exceptional skill, teamwork, and sportsmanship. The award is selected by the sports staff of The Polytechnic with input from RPI Athletics and the campus at large. If you have a suggestion for future athletes of the week, send an email to sports@poly.rpi.edu.