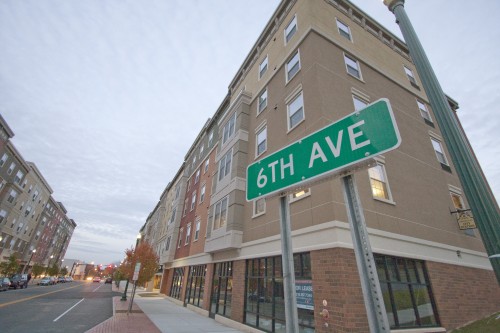 NEW CITY STATION POLICIES UPSET student residents. City Station is located on 6th avenue between Congress and Ferry Street and has recently come under new management.
Recently, City Station changed management. Graduate students living there have found themselves frustrated by some of the changes in policy and general management. Concerns voiced by graduate student residents of City Station to The Poly, some of whom wished to remain anonymous, include lease updates, lease length, fees to let locked-out students back into their rooms, package delivery, privacy, and parking.
One major concern voiced by a student is that maintenance has entered rooms without permission from the residents. Maintenance has knocked on the door and come in with a key without giving time for a response.
Following the change in management, some residents have had difficulties getting their packages. Graduate student Carl Wendoroff explains the situation: "New people took over running the offices and changed the policy so that the delivery people now have to drop the packages off at the apartment doors. For the City Station West building this was no problem because the front door is unlocked during the times that FedEx, UPS, and USPS delivers. But for City Station East and South, the only way to get a package delivered is to buzz them in when the package is delivered." Wenderoff and other students pointed out that it is difficult for graduate students to be around during the day; after all, they may have lab or teaching assistant commitments. Packages that do not require a signature can be left at the front office; graduate student Elizabeth Rodriguez said that she has had success with this method. Also, according to Rodriguez, before the management change, packages were left in the lobby and City Station staff would bring them into the apartments. She said "I preferred this more because it didn't leave my package out in the hallway to the mercy of anyone passing by."
Packages needing a signature are sent back to the carrier if the receiver is not around to pick it up. This has posed problems for some students. Graduate Dean Dennis Gornic said that "We are aware that package delivery is an issue, but that issue was raised only within the last month and efforts were quickly underway to find a better solution." According to Gornic, students can ask that packages not require a signature or have that package delivered to the Commons mailroom.
Another issue that some students have raised is lease updates. The update, according to a student who wished to remain anonymous, increases fees for damages. The original lease, according to some students as well as Gornic, allowed for updated leases. Not all students who talked with The Poly were aware of that fact, however. The updated lease also increased the price for lock-outs, which many students didn't like. The fee for paying the rent late was increased from $25 to $75. When a student locks him or herself out multiple times, they have to pay a fine when the staff has to let them in. Graduate student Sayre Christenson did point out that "so long as one of your other roommates (most rooms have four people, but I've heard of a couple with only two) didn't lock themselves out, you don't even need to ask for help from the staff." The price is variable depending on the time of day; it does cost up to $40 if the student has locked themself out before and needs to be let in by the security guard after hours. According to Gornic, "while it is true that a fee policy has been proposed for more than two lock outs­­—the fee has never actually been charged to a resident." According to a City Station resident, however, the lease says the fee will be charged even after only one lock-out.
Some students who talked with The Poly are very concerned that they may lock themselves out beyond the free first time and have to pay. One graduate student said that the staff members who have let him in after accidental lock outs prior to the new rule are "all nice people and generally understanding, and never seemed to care that I locked myself out before." The student also pointed out that, since City Station doors lock automatically upon being shut, lock-outs are very easy.
Another concern voiced by a couple of students is that leases run a full year. Some graduate students finish their degree in December; if they are City Station residents, this poses a problem. According to Gornic, students are allowed to sublet their apartments. Still, graduate students commencing in December are worried about having to pay for the entire year. Masters students who are at RPI for a year will only live in their City Station apartment for nine months. Of course, this is the same situation faced by undergraduates who live off-campus, but off-campus rent is generally cheaper than rent at City Station.
Students also raised concerns regarding parking. "There is a lifting bar at the entrance of the parking lot, and the sensor doesn't work well, so every time I have to stop the car at the entrance, stop the engine, take out the keys, and nearly touch the key to the receiving pad, and then start [the] engine again." Students have to pay to park inside the City Station east parking lot.
With any luck, these issues will be sorted out. The new management at City Station is working on figuring out how best to support its graduate student residents.