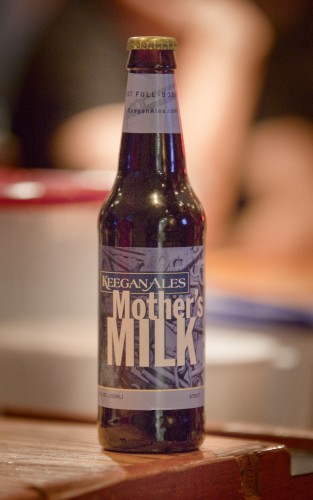 MOTHER'S MILK, PRODUCED BY A RELATIVELY YOUNG BREWERY, YIELDS a thick, chocolaty flavor, accompanied by hints of oatmeal and coffee malts.
Brewery: Keegan Ales
Bio: Keegan Ales was set up in early 2003 by Tommy Keegan in Kingston, New York. The first batch Keegan brewed was finished August 1 2003. After finishing, he proceeded to sell his beer at local restaurants and bars. Later that month, Keegan Ales had entered into a competition at Hunter Mountain, where Mother's Milk took home a gold medal. Up until 2004 Keegan Ales was not able to bottle any of their beer due to a defunct bottling machine; they only sold kegs during this period. Since then, they have won countless awards and recognitions including best beer in the Hudson Valley and best brewery in New York State. In 2010 New York Times declared Mother's Milk to be one of the top 10 stouts made in North America.
Beer: Mother's Milk
Style: Milk Stout
Tasting note guide:
The first thing you should notice with a milk stout is a thick, creamy, chocolaty flavor. As it travels across your mouth, you'll get hints of oatmeal and coffee malts. Because this is a milk stout, it is much sweeter than a traditional stout or an imperial stout, which generally have IBU's of 30 – 35 and 50 – 80 respectively. I would suggest large gulps when drinking most beer, but for stouts and milk stouts in particular, you want to fill your mouth to get the full effect of its fullness and creaminess.
IBU: 15-25
ABV: 6.00%
Clubhouse Pub price: $4.50
Review:
This beer was in the Clubhouse Pub very briefly, much to my dismay. However, according to the Pub manager, more is being ordered and it should be back in stock soon. As you bring the glass to your mouth you pick up a strong aroma of chocolate with hints of coffee. As you fill your mouth, you get the sweet creaminess you should expect in a milk stout. As it moves to the back of your throat, there is a very strong oatmeal malt flavor. This stout seems to be a bit lighter and cleaner than most milk stouts I've drank, probably due to the high amount of carbonation. This is kind of a double edged sword; the added carbonation makes it cleaner and easier on your pallet but it makes it taste more like a porter. Most milk stouts use nitrogen which is much more effective at adding bubbles without removing creaminess. The only problem is that nitrogen is much less soluble than carbon which means that if a brewery wants to make a nitro milk stout they have to have special equipment to bottle a nitrogen beer at a much higher pressure. Considering Keegan ales is a relatively new brewery, and it took them a year to fix their bottling machine, I have a feeling that they just aren't equipped to make milk stout on a "large" scale. All in all, this is a very solid stout.
Taste: 8/10
Very strong notes of chocolate, oatmeal and coffee. Most notably oatmeal, which with all that carbonation makes it something between a milk stout and a porter. It is a nice balance but takes away from the creaminess. It also is much smokier than most stouts which adds to its more porter-like feel and taste.
Body: 7/10
Very dark and initially quite thick but that thickness seems to be lost as you swallow. The head smells fairly strongly of chocolate and coffee, and that head sticks around for a while, which adds to the experience.
Feel: 7/10
Has a lighter body, but still can give you that thick creaminess you love in a stout.
Overall: 8/10
Would drink again, Mother's Milkis a very good beer. Its carbonation makes it a bit lighter but it still packs a punch in the flavor department. This makes it a great beer for people who love beer. However, it's also a very good beer to use to introduce someone to real beer, as it has sweetness, creaminess and relative lightness.
Got a beer you want me to review? Send me your suggestions: features@rpi.edu