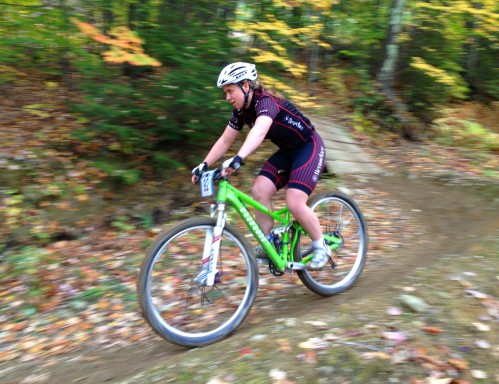 A MEMBER OF THE RENSSELAER CYCLING TEAM RIDES in a mountain biking event. The cycling team recently took the Division II championship title.
RPI Cycling's Mountain Bike Team has brought home the Division II Championship title from the Eastern Collegiate Cycling Conference for the second year in a row.
Over the weekend, the team travelled to the Eastern Conference Championships held at Highland Mountain Bike Park in New Hampshire. Nine riders took part in cross-country and gravity events held on Saturday and Sunday.
Seniors Max Coretto and Miles Beaven both earned RPI points by placing in the Men's B Dual Slalom at 6th and 8th, respectively. Sophomore Tom Cundiff placed 8th and 13th in B-category cross country and short track races, and senior John Malcovitch finished 12th in the B cross country despite an early crash. Freshman Jay Marion took 12th place in the Men's A category of both cross country and the short-track Cross Country races. Sophomore Hanna Lauterbach finished in 12th and 9th places for Women's A cross country and short track, finishing both races despite an ankle injury. Freshman Andrew Nicholas placed 8th and 10th in C cross country and short track. RPI Cycling VP of Mountain Biking sophomore Greg DiGuido also had a series of excellent finishes, coming in 3rd for C cross country, 6th in B short track, and 7th in C Downhill. DiGuido also accumulated the 2nd highest points total for Men's C racers throughout the season. The team capped the weekend with a 5th place finish in the team relay.
A total of 15 racers from RPI have travelled to the six race weekends across the Northeast, having fun at races, while working to keep RPI near the front of the pack. Over 30 schools took part in the ECCC mountain biking season this year.