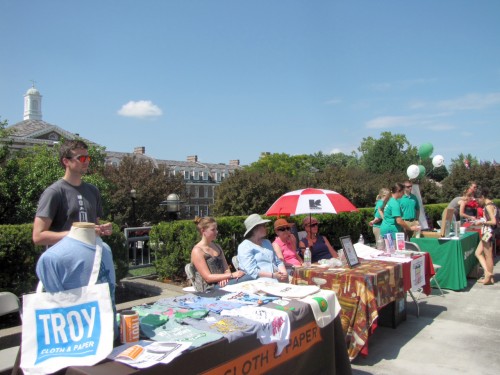 LOCAL BUSINESSES AND ORGANIZATIONS SET UP tables to present information regarding their regular activities, particularly those relevant to off-campus student attendees of the Off-Campus Housing Fair.
On Wednesday, August 28, the Office of Residence Life held the second annual Off-Campus Housing Fair. From 12–3 pm, several hundred students interacted with representatives of 41 various on-campus and off-campus organizations.
The goal of the fair, explained Associate Dean of Off-Campus Commons Cary Dresher, was to inform both off-campus students and those interested in living off campus of the many opportunities available in the Troy area. In regard to this, Dresher felt that the event was "definitely a success." Although Dresher did not have exact numbers available, he said that there was an increased student turnout from last year. Additionally, the 41 organizations at the fair was a significant increase from the 34 that attended last year.
Off-campus participating organizations included Aquilonia Comics, Pfeil Hardware, Citizens Bank, Market Block Books, Councilmen Bob Doherty and Dean Bodnar, Bruegger's Bagels, and The Flying Chicken. The on-campus organizations included ResLife, the Department of Public Safety, the Student Health Center and Counseling Center, the Archer Center, and the Mueller Center. The representatives from each group explained the services they render to RPI students.
To increase student attendance this year, more than 30 raffle prizes were offered. These included two Amazon Kindle Fires, provided by Citizens Bank and Bank of America; an iPod shuffle, also provided by Citizens Bank; Visa gift cards; and a two-week parking pass. "Sodexo was kind enough to provide a lot of the prizes," said Dresher.
Dresher explained that, while he labeled the event as a success, there are several changes he wants to make for the next fair. He hopes to increase advertisement of the event, although he said that students from Design and Arts Housing who provided posters for the fair "did an awesome job." The event will be held about an hour earlier, since "peak attendance was at the beginning of the fair and dropped off early," said Dresher. He also hopes to see a continued increase in participating organizations, stating that the "great variety of businesses" in attendance "just adds to the interest of the students."
This Friday, Dresher will also be involved with a meet and greet event, during which he and other members of ResLife will talk to off-campus students about their rights and responsibilities. This will be done in addition to Dresher's weekly newsletter providing safety advice and other information relevant to off-campus students. Dresher explained that he wanted to help familiarize students with the community surround RPI.
For more information about the Off-Campus Housing Fair or about off-campus living in general, students can contact Dresher at dreshc@rpi.edu. Dresher also mentioned that students can visit http://www.jumpoffcampus.com/ for assistance with finding an off-campus apartment.