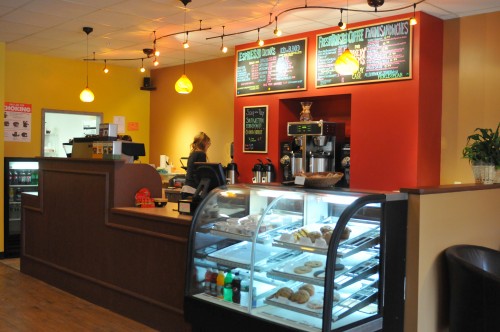 STIR IT UP, A BRAND-NEW COFFEE SHOP IN COLLEGE SUITES, OPENS the business day, preparing a small but tasty selection of sandwiches and drinks while a store YouTube channel runs in the background.
Amidst the rapidly expanding construction along Congress Street, new businesses are staking claim in what promises to be a great location for college students looking to spend money. It is along this bottom floor of the College Suites student housing that Stir It Up Coffeehouse has claimed its position.
Having only opened this past Monday, January 21, the selection of foods is still rather small; it features muffins, cookies, and yogurt in a small display case along with a healthy selection of paninis. If you are looking for a place to find a complete home-style breakfast before heading to class, you should look elsewhere. If, instead, you wish to grab a quick cup of coffee and a bagel before starting the day and are tired of feeding into RPI's Sodexo food monopoly, Stir It Up is the place for you!
Exhausted and setting out to face a long day of work and classes, I wandered into Stir It Up looking forward to a good cup of coffee and a solid meal. A little disappointed in their breakfast selection—they didn't have bagels at the time due to the bakery being closed—I chose the always safe pesto and tomato panini. It was delicious.
Named after a popular Bob Marley song, Stir It Up has an atmosphere catering to college students. It is outfitted with numerous outlets and free wi-fi. Rick VanVost, the owner of the establishment, is focused on creating a space that will accommodate student's schedules and attitudes. VanVost plans to establish an open mic night after business picks up, and instead of playing news in the early morning, VanVost runs a youtube channel featuring Bob Marley and other popular musicians in order to keep the place lively and entertaining.
Other than being deserted, I thought the atmosphere was welcoming and pleasant. Bob Marley serenaded me from the television on the wall as I ate my meal. Both the sandwich and the coffee were great.
In addition to keeping Stir It Up student friendly, VanVost is dedicated to using local foods such as bagels from the cookie factory up the street. Coffee roasts are being decided still, with the two options of Capital City and Chris' Coffee fighting it out for the best cup.
Prices are reasonable, matching typical values of what you will find at Jazzman's or elsewhere. A regular coffee costs $1.85 with a large running you $2.05. Specialty drinks will cost anywhere from $2.25 for a Macciato to $4.00 for a Chai Latte. I spent around $10 for the panini and a small cup of joe. (Did I mention it was tasty?)
Overall, Stir It Up is a great place to get a solid cup of coffee. If I lived in College Suites or Blitman Residence Commons, I would certainly run in to get my daily caffeine requirement. Unfortunately, as is the case with most new businesses, the place is rather deserted, but I imagine that as business improves, the place will find its way into students' daily routine.