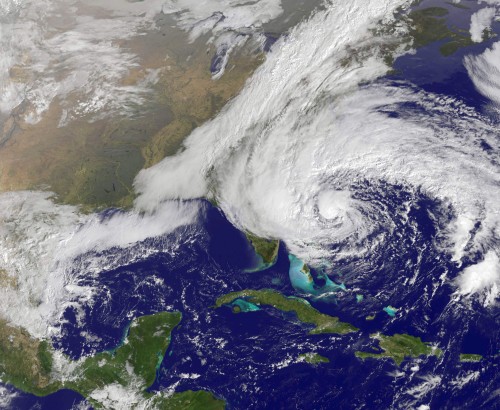 HURRICANE SANDY, NICKNAMED THE "FRANKENSTORM," HITS the east seaboard, causing massive amounts of damage along the coast. RPI, however, did not see the brunt of the storm.
Over the weekend, the RPI community was notified via RPIAlert that Hurricane Sandy could become a threat to the area. As a result, all classes and non-essential operations were canceled after noon on Monday. But, as of Tuesday, October 30, operations were set to continue as usual.
In an e-mail sent out at approximately 4:39 pm on Sunday, Vice President of Administration Claude Rounds stated that, "According to the National Weather Service, the storm—expected to begin impacting our region Monday afternoon—will bring heavy winds and prolonged periods of rain to this area. This storm has the potential to cause widespread power outages, some flooding, and damage to buildings." Rounds' e-mail encouraged all students, faculty, and staff to also monitor the situation on their own via the National Weather Service's National Hurricane Center website located at http://www.nhc.noaa.gov/. Members of the Rensselaer community were also informed that updates regarding the issue would be posted to the RPIAlert website, http://alert.rpi.edu/.
On Monday, at approximately 9:12 am, an e-mail was sent out stating that, "All classes are canceled and the liberal leave policy is in effect as of noon today, due to Hurricane Sandy." Those who had set up their RPIAlert accounts were also notified via text messaging. This was followed several minutes later with a text message clarifying the notification: "Clarification: All classes will continue until noon today, when the campus closes and classes are canceled."
At 9:40 am, further information about the closing of campus was posted to the RPIAlert website. This was also sent via e-mail about an hour later. The notice stated that, "All students are encouraged to stay safe by returning to their residence halls or their off-campus housing. All campus offices and departments will be closed at noon, except for those providing essential services." The Rensselaer Union, Folsom Library, and the Experimental Media and Performing Arts Center were among those buildings that were closed.
Sodexo allowed the four dining halls on campus to remain open during normal hours. However, late-night dining hours in Commons Dining Hall were suspended "for the duration of the storm."
The Red Hawk Shuttle Bus System continued to operate until 2 pm to assist students with returning to their residences. The Student Health Center also remained open until this time.
RPI also prepared the Houston Field House and the East Campus Athletic Village to serve as temporary shelter in case of emergency.
At 12:09 pm, President of the Union Jonathan Stack '13 sent out an e-mail to club officers stating, "In response to a possible power loss due to Hurricane Sandy, we have decided to take all Union servers OFFLINE effective TODAY at 12:30 pm. This outage will affect the Club Management System, Budget Management System, and membership and mailing lists."
At 1:18 pm, RPI released another update stating, "Hurricane Sandy has turned west toward the New Jersey coast and is expected to make landfall there later this afternoon [10/29], packing winds over 90 miles per hour and generating a significant storm surge along the coast." The notice added that winds were expected to peak at 60–70 miles per hour in the area around Troy on Monday evening, but that the winds would slow by Tuesday morning.
Around 5:55 pm, most off-campus students, faculty, and staff lost power. Many students left their houses and apartments to travel to RPI facilities, which still had power. Power returned a few hours later.
RPIAlert sent out another update at 7:42 pm stating, "Early tomorrow, Institute leadership will make a decision on resumption of normal operations and classes—following a full assessment of the storm and any damage it might have caused. We expect to make an announcement as early as 6:30 am."
At 6:17 am on Tuesday, RPI leadership made the decision to reopen all campus buildings and resume classes. Several professors, though, decided to cancel their classes.
Sandy is now rated as by the National Weather Service as a "post-tropical cyclone," and is expected to pass north, through the Great Lakes, and into Canada. RPI has released no further alerts indicating that normal operations may be interrupted.
To update your phone information for the RPIAlert system, log into RPI's Student Information Services at http://sis.rpi.edu/ and look for the link titled "Update your RPIAlert phone number" under the Student Menu. For additional personal safety, RPI is also currently offering its RPI Guardian service. For more information, please visit http://getrave.com/login/rpi/ and login using your RCS credentials.