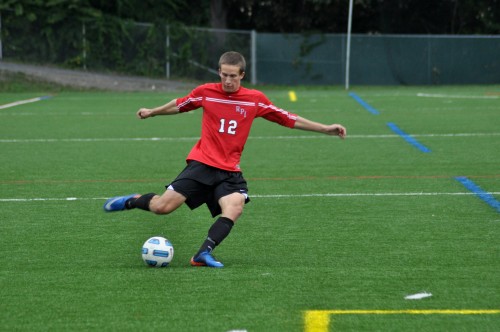 SOPHOMORE ALEX DOTSETH BOOTS a shot toward the net during RPI's two-overtime tie with the Rochester Institute of Technology on Friday afternoon.
RPI men's soccer's difficult weekend of games started on Friday as it hosted Liberty League opponent Rochester Institute of Technology. RPI was looking for its first Liberty League victory after losing its opening match to Vassar College, while the Rochester Institute of Technology was hoping to get their second in two matches.
The game was very even throughout with both teams creating chances. The difficulty for these squads was turning these chances into shots and shots on goal. RPI finished the game with only one shot on goal.
RIT was creating chances and getting shots towards Engineer sophomore goalie Craig Bennett, but the netminder was up to the challenge and finished with six saves.
Since the deadlock could not be broken during regulation, the game headed into overtime. Once again, both goalkeepers starred as they both made key saves to keep their team in the game.
In the 97th minute, Bennett made his first save of overtime, stopping RIT senior David Vogt. RPI finally created a solid chance at a goal in the 107th minute with freshman Matt Koziol. Koziol trapped the ball with his chest and fired a shot that was cleared after a fine save from RIT sophomore keeper Sean Conway.
Bennett made another save in the 108th minute that kept the game scoreless and preserved the tie and point for the Engineers. RIT sophomore Andy Fleckenstein hit a shot that Bennett could only get his fingertips onto. Thankfully for RPI fans, those fingers were all Bennett needed to produce a save.
The tie left RIT with a 4-3-2 (1-0-1 Liberty League) record while RPI, with a 4-2-2 (0-1-1 Liberty League) record, awaited its game against nationally-ranked Hobart College.
The day after a frustrating tie with RIT, it was clear from the outset that RPI wanted to be more aggressive and offensive against Hobart. Chances that would have gone begging on Friday turned into well executed plays and shots on Saturday.
The Engineers' first attempts on goal of the game came from junior Adam Updegrove. The first came from an RPI corner kick that Updegrove latched onto and drilled towards goal and the second came from a cross off of the head of senior Matt Koliopoulos. Both were well taken by RPI but saved well by Hobart senior goalie Charlie Hale.
17 minutes after halftime, Koziol gave the Engineers a deserved lead. He headed home a free kick from senior Adam Papageorgis from six yards out. This was Koziol's fourth goal of the year as he has been a key component of the Engineer offense.
Unfortunately, RPI would lose the lead after a foul in the penalty box in the 69th minute. Hobart would level the scoring after Bennett was unable to stop the penalty kick.
Five minutes later, Hobart would score again. Senior Tony Yeboah collected a deflected cross and hit a hard shot just inside the post.
This ended a frustrating pair of games for RPI. In both it created chances but was either unable to convert those chances or preserve the chances that it had converted on. The Engineers (4-3-2, Liberty 0-2-1) host rival Union College on Wednesday at 7 pm at Renwyck Field.