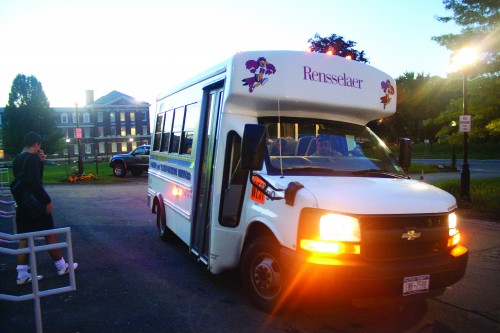 Innio, a company consisting primarily of RPI alumni, has been hired by the Parking and Transportation Department at RPI to implement a new shuttle-tracking program. This program will provide RPI with information such as rider occupancy and shuttle speed. Unlike the existing shuttle tracker, which mainly functions to give students an idea of where the shuttle is in relation to their current location, this new system will provide the transportation department with key information to help make shuttles run more efficiently.
Initially created by the Student Senate in 2005, the shuttle tracker has gone through a variety of changes as newer technologies have been created and as students have felt the need for a more efficient system. According to August Fietkau '09, a partner of Innio and a past Chief Information Officer of the Student Senate, the shuttle tracker system began as a Student Senate project with a budget of around $5000 per shuttle. Other than the low budget, the Senate faced the daunting task of finding a system that would work at the frequency necessary to monitor the shuttles while catering to the number of students using it. After researching vendors, the group eventually decided to go with a "black box" made by a company called iTrack, which contained a GPS chip. The GPS system sent information regarding the shuttles' locations to iTrack satellites, which then sent data to iTrack servers, which the Senate then pulled into its own system's interface. According to Fietkau, the initial system interface was, "horrible … the map imagery was terrible." The next Senate CIO, Brian Michalski '11, went on to create a "pure web application" that not only was "cuter," but "had a much better update time."
Now, Innio is looking to create a system that can be used to collect valuable information that can be useful for the Department of Parking and Transportation. Instead of a black box, they have installed an Android tablet as a test onto a new shuttle that is used only occasionally. According to Fietkau, the system has been working quite well except for a power error. Instead of shutting down when power to the shuttle is cut, the tablet will stay powered on, draining the device's batteries. The tablet has only been in place for a few weeks, so according to Fietkau, there is much room for tweaks and improvements.
Innio is comprised of Student Senate alumni who worked heavily with Web Technologies Group projects, such as the Shuttle Tracker and Concerto Digital Signage. They are now looking to implement these ideas outside of RPI. Having spent so much time working on projects like the Shuttle Tracker and Concerto, the founders of Innio want to create open source software that would be useful to the rest of the world.