Lyle Newman, Staff Reporter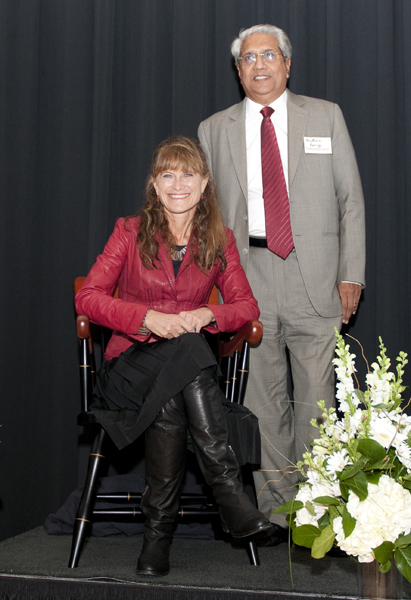 Ryan Baltazar/The Polytechnic
JACQUELLINE NOVOGRATZ AND A.P. PARIGI POSE for a picture after Novogratz formally recieved her award.
Not many people have the courage to leave their prosperous career as a banker, give away their worldly belongings, and head to a developing nation with the goal of solving poverty. Jacqueline Novogratz did exactly that, but that is not why she was at RPI this week to accept the 2010 William F. Glaser '53 Entrepreneur of the Year Award.
Novogratz was here because the ambitious optimist has created an entirely new type of finance called "Patient Capital." It thrives where traditional philanthropy fails and capitalism creates gross inequities. Providing venture capital to support fledgling businesses in places like India, Kenya, and Uganda, the Acumen Fund has changed the future roadmap for many places that are yet unmapped.
Founded by Novogratz, the Acumen Fund has invested $40 million in 35 companies to change the lives of 25 million people. The non-profit venture fund is a direct result of her experiences both on Wall Street at Chase Manhattan and on the streets outside Rio among the Favelas. Her New York Times best seller The Blue Sweater documents Novogratz's experiences from her time as a traditional banker, to her eye-opening time in Africa, and finally to her early successes in the challenging ordeal of starting businesses in developing nations.
The Severino Center, along with the Lally School of Management, sponsored the presentation event at the Heffner Alumni House and the day's surrounding activities. Director of the Severino Center for Entrepreneurship Gina O'Connor was excited for the opportunity to have Rensselaer inspired by Novogratz's social entrepreneurship model, which is finding great success across the globe.
The formal title was handed off to Novogratz by 2009 winner A.P. Parigi, Managing Director of Entertainment Network India and CEO of Times Infotainment Media. Parigi's speech conveyed the honor and respect he holds for her, finishing, "There is not enough darkness in the world to keep out the light of one candle that is Jacqueline Novogratz," which was a reference to the challenges she faced in her early days and the Rwanda Genocide that occurred after her extensive time in the country.
Although influenced by microfinance, the Acumen Fund and "Patient Capital" takes a combination of government money, philanthropy, and private investments to collaborate and create razor-thin margins upon which the companies they support can scale up. The fund focuses on critical goods and services such as health, water, housing, and energy innovations. By being market-orientated, the Acumen Fund looks to recover most of its investments while improving the lives of millions of people. It fits the niche between capital markets and traditional aid.
One great example of the fund's success hits close to home.
RPI has a connection to the Acumen Fund through Gyanesh Pandey, the Co-Founder of Husk Power Systems (HPS). With a master's degree in power electronics engineering from Rensselaer, Pandey worked in the power management semiconductor industry before moving back to India.
Husk Power is supported by the Acumen Fund and uses the abundant rice husks found in rural India to create electricity. This electricity is clean, efficient, and most importantly, safe. The kerosene lamps and wood stoves the villages traditionally used were dirty and frequently started structure fires.
While 80–90 percent of Indian households in the Bihar region lack access to electricity, 130 villages in the northeastern region of India have already received Husk Power generated electricity for a total of 100,000 people. Husk Power was formed in 1997 to serve the villages between Nepal and Bangladesh that even the Indian government had deemed "out of reach." For $1 per month, this innovative solution provides power to a household for cooking and light to work or study after sunset. At the same time, this company will employ 3,000 people in the area within the next five years.
The reason Pandey's start-up was a candidate for the Acumen Fund is that most normal venture capital firms would look for quick growth and fast returns on their investment and would not consider HPS, despite being financially stable. Acumen sees that over the long term its investment in HPS will change lives while returning profitable dividends.
Many of Acumen's investments target health-related problems such as malaria. One such investment includes a company that manufactures 30 million nets per year while also employing 8,000 women. These bednets are coated with a long-lasting insecticide so they can last up to five years and only cost around $5. The distribution is all in the private sector, so the total cost per net has dropped from $12 to $5. The textile company is now one of Africa's largest employers. Novogratz likes that she can build an industry and transform a city and a country with a single company under Acumen's wing.
The ambitious Novogratz is still running the Acumen Fund and is always seeking new ideas and fellows to help facilitate development of those ideas. "Don't stand on the sidelines," she told the future engineers at RPI, in her closing remarks at the institute.