Lonnie Seo, Staff Reporter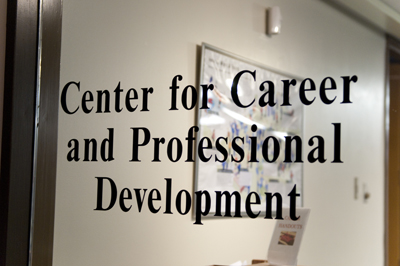 Ryan Baltazar/The Polytechnic
THE NEW CENTER FOR CAREER AND PROFESSIONAL DEVELOPMENT WILL OFFER improved services to students.
The idea came on a Sunday afternoon when Tom Tarantelli, Director of Center for Career and Professional Development and Acting Assistant Vice President for Student Life, was watching football. The players were introducing themselves and naming their alma mater when one of the players referred to the University of Miami as "the U." Tarantelli then had the inspiration to have the students to refer to the former Career Development Center as "the Center."
Recently, the CDC went through a name change to the Center for Career and Professional Development. The previous name gave emphasis to the term 'career', which connotated an association to a job after graduation. "That's not the right emphasis," corrected Tarantelli. "[The CDC is a center for] excellence and expertise in recruitment, knowledge of the job market, available opportunities, and all other aspects of professional developments such as resume, interview, career fair, and counseling. The word 'professional' would let students know that the center is not just about employment. It [is] about graduate schools, international opportunities, and life skills."
By asserting that the organization helps in all areas regarding the development for both career and profession in its new title, the CCPD hopes to suggest an air of "life-long learning."
The name change coincided with the inclusion of professional development as 1 of the 5 themes in the CLASS initiative.
In addition to these changes, there are plans to expand the CCPD's roles on campus. The CCPD is currently establishing networks and collaborating with Archer Center, the athletics department, and Reslife. There has been an effort to the CCPD's more involved in freshman dorms. The CCPD has "re-engineered the professional development plan." CCPD hopes to extend its website to not only the current students, but to RPI alumni and those in the field in order to set up a network for mentoring and internships.
As well as the bigger national corporations, the CCPD is reaching into the local community to provide students with experiential opportunities, such as internships and full-time jobs with companies such as Global Foundaries.
"For everthing to work, everyone has to be a participant and effective communicator. When [the students are] ready, they should come to CCPD," states Tarantelli. "Anything to do with career and professional development, [students should] refer to the Center."