Black Students Alliance
BSA ends the semester in splendor
The Black Students' Alliance has had an eventful past two months hosting our Ebony Ball, a joint general body meeting with the Caribbean Students Association, and our new, yet very well received, Fashion Show themed Black Owned Success Series Event.
Ebony Ball, a highly anticipated formal event hosted by BSA and open to the entire RPI community, took place on March 18. At Ebony Ball, we had Dr. Ekow King, Assistant to Vice President for Student affairs for Diversity, Equity and Inclusion and Director of Intercultural Student Engagement at the University at Albany, give an eye-opening speech about our Black History Month theme: Afrofuturism. He touched on Black individuals creating a future for us, since the concept of futurism—especially in media—has excluded Black people.
During our awards ceremony, we gave away eight awards to our members to commemorate them for the great work they do for RPI's Black community. We also had a delicious buffet style dinner with a wide array of food options including mac and cheese, piri piri chicken, gumbo, red beans and rice, Jamaican vegetable rundown, and cornbread along with rum cake, ice cream, and caramel sauce for dessert. A special touch to this year's menu were the BSA branded bread rolls at the table along with a salad and custom hibiscus tea mocktail as an appetizer. We finished off the fun with dancing and music from DJ Syxx Figgaz.
We also collaborated with CSA on a joint GBM where we discussed the influence of Black and Caribbean culture on music. We went through the history of reggae, dancehall, soca, hip-hop, R&B, rock, jazz, blues, and ska and our cultures' undeniable impact on those genres. We discussed whether we believe the cultural differences from the new audiences have changed the original messages behind songs and caused them to be overlooked. We finished off the GBM with a fun activity where we had attendees guess which songs were sampled in short audios we played, finish the lyrics of songs, and demonstrate iconic dance moves within Black and Caribbean culture.
The fashion show is a long-standing Black History Month tradition for BSA and one of our biggest events of the year. The entire RPI community looks forward to all of our hard work in getting fashion show designers and models to showcase their amazing pieces before the RPI community. Unfortunately, due to new COVID-19 regulations, we could not have our traditional fashion show, but in place of that, we hosted our first ever Fashion Show themed B.O.S.S. Event.
I created B.O.S.S. Events last academic year in response to the resurgence of the Black Lives Matter movement of 2020. B.O.S.S. Events display the Black community in all its capacities and facets—particularly its success stories—by highlighting Black-owned businesses and careers that are trailblazing in their respective industries. The B.O.S.S. Events last school year were very successful, as I managed to bring in Abena Boamah-Acheampong, the CEO and founder of Hanahana Beauty; Shontay Lundy, the CEO and founder of Black Girl Sunscreen; and Girard Hardy, the Director of Brand Marketing for Walker and Company Brands to speak to our general body members. Last semester, Jelani Fenton, CEO and Founder of Safari Digital Insurance, came to speak with us.
At the Fashion Show themed B.O.S.S. Event, Va'Ceia Payne, founder and CEO of Va'Ceia Designs; Diessou Kante, founder and owner of Jolieden's Beauty Bar in New York City; Sira Kante, notable model and founder and CEO of Aris Beauty Skincare; and Aicha Kamara, the owner and founder of Aicha Professional Hair and founder of the non-profit Lavie of the World tuned in virtually as our featured speakers. They were extremely engaging and an honor to host. All attendees, including members of both RPI's Black and non-Black communities, ranging from students to faculty, all left inspired and invigorated to be the next success story.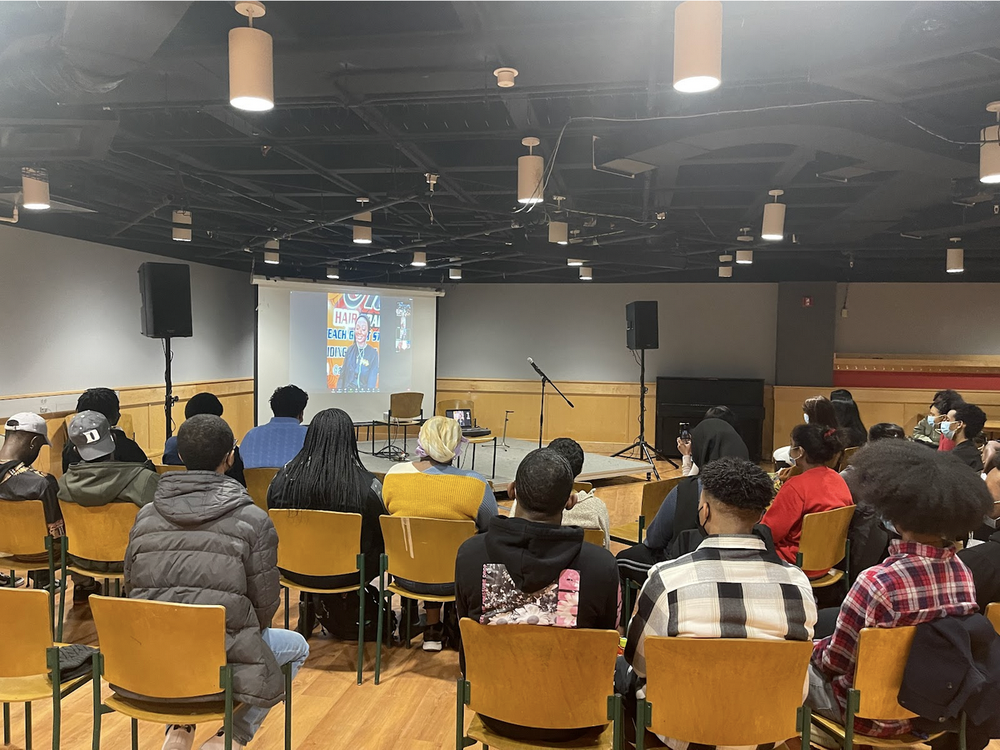 We also held a raffle to accompany the B.O.S.S. Event, where we gave away 11 gift sets consisting of skincare products from Hanahana Beauty, Bevel, and Black Girl Sunscreen, and vouchers to Jolieden's Beauty Bar in NYC and Va'Ceia Designs based in upstate NY. Fashion Show Director Samuel Harrison '22, and Alumni Chair Jasmine Filawo '23, were great contributors to the success of the Fashion Show Themed B.O.S.S. Event and the B.O.S.S. Raffle, and they helped me out tremendously to put them together. Make sure to head over to our Instagram, rpibsa, to see more of our lucky B.O.S.S. Raffle winners and look for some of our new T-shirt designs.
We also have some BSA T-shirt designs announced, so stay tuned to our Instagram for when those drop!
It has been an amazing run being this year's president, and I am so grateful to The Poly for giving us this platform to share our successes and invite more members of RPI's community to our upcoming events. I would like to thank my executive board for their work this year, and I am very excited to see what the new executive board has to offer! The 2022-2023 executive board is announced on our Instagram. I encourage everyone to continue educating themselves on the Black culture and the Black experience so we can continue to bridge the gaps between us and others due to historical misunderstandings that have unfortunately pushed into today's world. A great way to do this is to get involved with BSA and support our efforts by attending our events. Thank you!