Town Meeting
Fall semester to involve online learning
Pandemic plans, financial findings, and a return to research discussed via Webex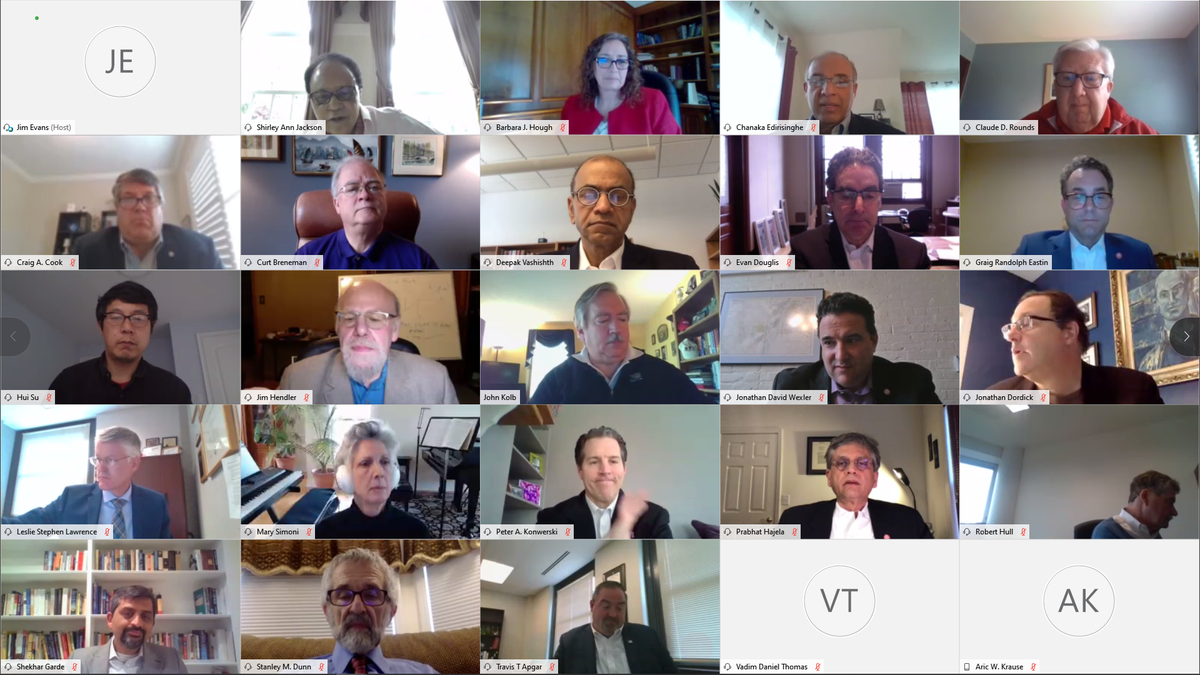 President Shirley Ann Jackson, the Provost, School Deans, and other administrators discussed the Rensselaer community's concerns during the Spring Town Meeting, hosted through Webex, that students, faculty, and staff submitted as questions in a webform the day before.
The meeting quickly filled to its 1,000 attendee limit, and after a half-hour delay, Jackson began with opening remarks on how the Institute is responding to COVID-19. She then addressed the general topics of campus reopening, the Arch, and RPI's finances.
Community concerns were not answered in a question and answer format as in town meetings past.
RPI TV's live stream of the meeting can be found below. What follows are some essential points.
Outline of a plan to prevent coronavirus spread announced
Execute Director for Health and Wellness Dr. Leslie Lawrence outlined a plan during the Spring Town Meeting to prevent the spread of COVID-19 when students return to campus. The plan, dubbed T3SQ, is part of the Start-Up Task Force established by President Shirley Ann Jackson for "lessening risk and mitigating consequence" of COVID-19. The T3SQ plan includes mandatory testing and contact tracing, increased campus cleaning, and mask provisions, and daily check-ups through an app, as the RPI administration continues to flesh out plans for the fall.
[Read the full article about the plan to prevent the spread of COVID-19 in the Fall semester here.]
Online learning to be integrated into the Fall semester
Though it is not currently known whether or not students, faculty, and staff will be able to resume on-campus learning, it was clear that online learning would remain an aspect of the student experience come fall.
Dr. Lawrence addressed student concerns in regards to completing missed work if students were to contract the coronavirus, explaining how "we're going to have a lot of our academics online" so students can keep up with their work.
If students do fall behind or fall ill, however, Dr. Lawrence said, "we can give you extra time to make up your work… we even have disability services available which we've used for temporary illnesses in the past which you can access to help you stay caught up."
RPI continues pursuit of peace officer status for public safety officers
RPI's lobbying for expansion of PubSafe's powers in the New York Senate through Senate Bill S7654 has sparked conversation and community concern in recent months.
During the town meeting, both Director of Public Safety and Emergency Management Vadim Thomas and Jackson expressed how they believe the expansion of PubSafe powers would increase campus safety. Jackson said "I think there's been a degree of misunderstanding about the peace officer status," and elaborated that the expansion of powers is supported by the Troy Police Department.
Thomas encouraged students to continue to "dialogue" with the administration in expressing their concerns.
RPI's student government resolved to call for the withdrawal of the bill on March 2, and urged the administration to issue an official apology to the Rensselaer community for lobbying for the bill without asking for community input, advising the administration to consult the Rensselaer community before lobbying for future legislation.
As of the publishing of this article, no such apology has been made.
Arch remains mandatory
In response to students asking via webform whether or not the Arch would remain mandatory, Vice Provost and Dean of Undergraduate Education Prabhat Hajela said "Arch is now really a part of our curriculum." During the last town meeting, Jackson expressed a similar sentiment, saying that there would be no consideration in making the Arch optional.
Due to the ongoing COVID-19 pandemic, this year's Arch program—which starts this Tuesday—will be online. Last year was the first full implementation of the Arch and a Student Senate poll revealed that 78% of the participating students were unsatisfied with Arch.
A 4% decline in enrollment shown for the Class of 2024
Vice President of Enrollment Management Jonathan Wexler mentioned that there has been an estimated 4% decline in freshman enrollment to RPI this year, though the Office of Admissions has granted students extensions to submit their deposits, typically due on May 1. A decline of 4% enrollment from the Class of 2023, which had a freshman enrollment of 1750, translates to 1680 freshmen enrolled for the Class of 2024, a 70 student decrease from the previous year. The Class of 2023 saw a decrease of 46 students from the Class of 2022's record enrollment number of 1796 for a 2.6% decline in first-year enrollment.
Research to be continued remotely with plans on returning to the laboratory
Acting Vice President for Research Robert Hull said that until it is possible for researchers to return to campus, research will continue remotely. Hull mentioned that there are plans to return to laboratory work with the necessary social distancing and health precautions, ensuring that "people working in the laboratories will be as safe as they will be in their daily lives."
AiMOS, a supercomputer housed at the Center for Computational Innovations in the Rensselaer Technology Park, is part of the COVID-19 High Performance Computing Consortium, a public-private effort created by the White House to unite the US's supercomputers in support of COVID-19 research. Ongoing research at RPI utilizes the computing power of AiMOS for molecular modeling and contact tracing to combat COVID-19.
New psychiatrist hired
Dr. Lawrence announced that a new psychiatrist will be joining the staff of the Student Health Center: licensed psychiatrist Dr. Anita Chu was hired on May 11.