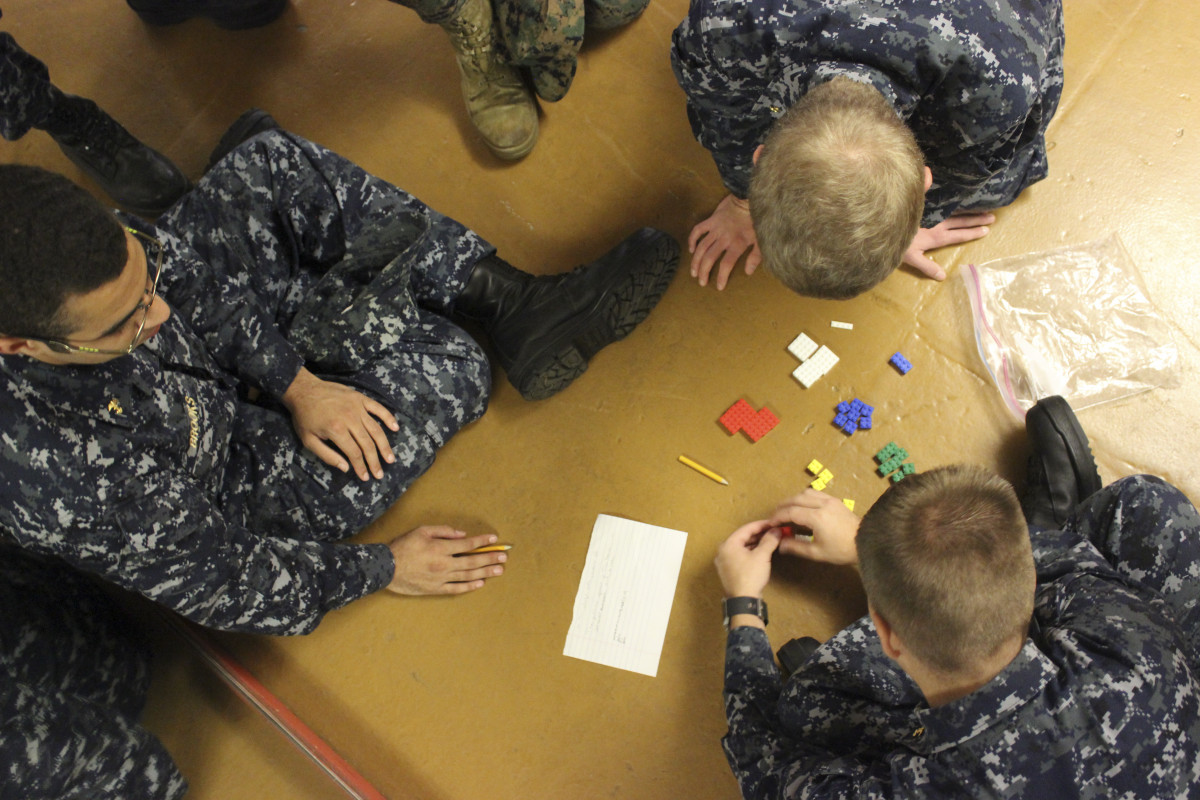 MIDSHIPMAN JASON BROOKS '18 (LEFT) ALONG WITH OTHER NROTC MIDSHIPMEN ENGAGE in hands-on activites hosted by the Archer Center.
Recently, RPI NROTC underwent leadership labs run by the Archer Center for Student Leadership Development in order to increase unit cohesion and enhance skills that will be utilized by midshipmen in their future naval careers. The Archer Center personnel organized several fun stations that emphasized teamwork and communication in order to complete a task.
They were very helpful with each task, leading debriefs that further informed the midshipmen following the completion of the task. One of these stations featured a challenge to get across a "toxic river" in order to retrieve a care package. The catch was that all midshipmen participating must be on top of a sheet of plywood. The midshipmen were supplied with several tennis balls, as well as two crutches to push the sheet forward. The midshipmen were not allowed to touch the ground in any way, alluding to the toxicity of the metaphorical river.
The task, however difficult, taught the midshipmen that the planning phase of a task is sometimes just as important as its execution. The "toxic river" challenge also emphasized effective communication, since moving the board was difficult without properly shifting momentum in unison.
Another interesting task further emphasized the importance of communication. The assignment given to the midshipmen was to build a figure made out of Legos in order to perfectly match the example figure, hidden in another room. Certain midshipmen were given different roles such as "writer," "builder," or "talker." The "writers" could not talk about the figure they saw, but had the ability to write down their observations. On the other hand, the "talkers" could not write anything down, but could talk to the builders in order to help match the figures. Neither the "talkers" nor the "writers" could build any part of the figure. This task drove the midshipmen to specifically designate responsibility as well as effectively communicate what they saw. Based on how the assignment was designed, poor communication would lead to failure in accomplishing the task.
Overall, the leadership labs were both fun and informative, allowing the midshipmen to take a break from their typical training. The Archer Center personnel are to be commended for helping shape the midshipmen to be better prepared for their future careers.