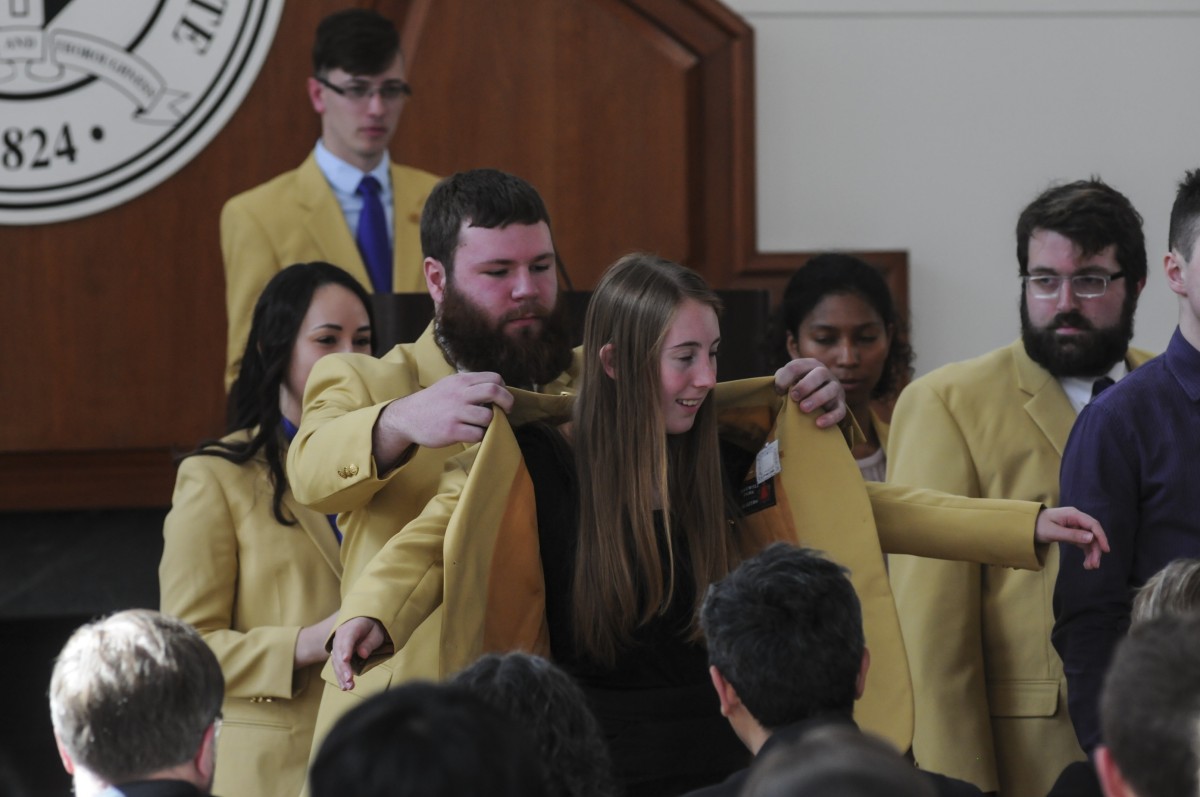 BRENNA BUCKLEY '18 RECEIVES Phalanx's symbolic yellow blazer from Vice President Christopher Markum '17.
On Saturday, April 8, the 2017 Phalanx Honor Society tapping ceremony took place in the Heffner Alumni House. The ceremony began with welcoming remarks from Phalanx Vice President Christopher Markum '17, followed by the keynote address by President Shirley Ann Jackson. After the keynote address, the White Key Society held their induction in which they inducted 11 new members, eight from the Class of 2019, and three from the Class of 2020. The White Key Society awards membership based on the same criteria as the Phalanx society but is awarded to freshmen and sophomores who have shown strong leadership skills and dedication to improving the Rensselaer community.
Following the White Key induction, the David M. Darrin '40 Counseling Award was given to 10 faculty members. For the last 45 years, the members of Phalanx have selected the winner of the award based on leadership, service, and devotion to the alma mater. This is the first year it has been awarded to more than one recipient. Following the distribution of these awards, the 2016 recipient Dr. Marianne C. Nyman gave her Wizard of Oz-themed remarks, and encouraged everyone to continue to be "good deed doers" and stand for what you believe in, while staying courageous and "having heart and brain."
Lastly, the new Phalanx members were inducted. Phalanx was founded in the spring of 1912 by Edward H. Dion, Class of 1912, to honor those who had dedicated time to better the reputation of Rensselaer both on and off campus. The society was composed of leaders of clubs and organizations, as well as those who proved to have goals and long-term visions of improving Rensselaer. Members were initially inducted as freshmen and sophomores to the White Key Society, and if they continued to show true leadership and dedication, they could then be inducted into Phalanx.
The prestigious membership is now awarded to honor and recognize leadership and dedication to improving life at Rensselaer through nominations on their website. Phalanx members follow up on the nominations and determine whether the nominee is worthy of the high honor. This year, 25 inductees were given their special yellow blazers, and tapped into the society. The inductees were Gregory Bartell '17; Rachel Blacker '18; Samantha Bliss '17; Kianna Brevig '18; Daniel Bruce '16; Brenna Buckley '18; Diego Carrasquillo '16, '17; Christine Desplat '17; Jennifer Freedberg '18; Shannon Gillespie-McComb '17; Jonathan Gottwald '17; James Hanuman '17; Tanner Hart '17; Charles Kirchner '17; Kenna Klass '18; Donna Grace Moleta '18; Conrad Mossl '17; Hannah Murphy '18; Candice Poon '17; Priyanka Raju '18; Spencer Scott '13, '17 Ph.D; Kristen Shaughnessy '17; Anna Thonis '17; Mary Votto '17; and Haoxue Yan '16. Following the Phalanx inductees, five faculty members were given Honorary Phalanx membership. These new honorary members were held to the same standards while going through the nomination process and have shown great dedication the Rensselaer community. The Honorary inductees were Christine Allard, Graham Knowles, Randi Mogul, Tara Schuster, and Sharon Simmons.