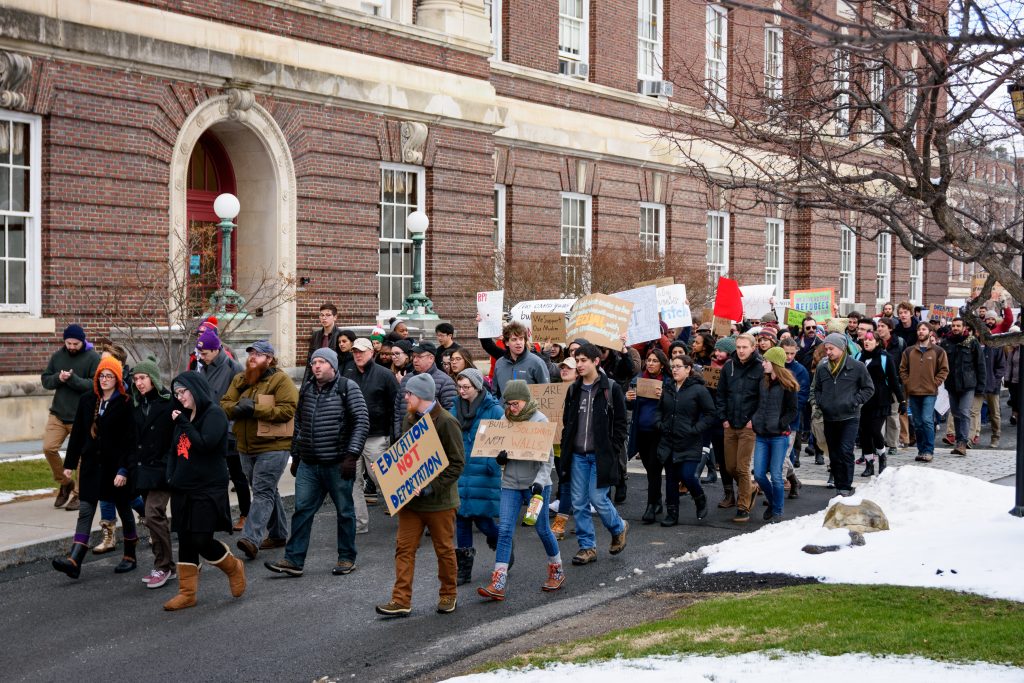 RPI STUDENTS MARCHED through campus on Wednesday, in support of international students.
"No hate, no fear, immigrants are welcome here!" was one chant among many that brought over two hundred people together on Wednesday, February 1, for a march supporting international students in light of President Donald Trump's recent immigration ban (https://poly.rpi.edu/s/hlxhv). The march centered around the idea of making everyone feel welcome at RPI—especially international students, immigrants, and those unhappy with recent events.
The march organizer, a graduate from RPI's Science and Technology Studies department and former lecturer in Communication & Media, said that the demonstration was meant to "tell everyone—people who are currently attending RPI, those who are thinking about applying, and those who have graduated—that this is a place made up of smart, welcoming people who care about each other." The organizer also mentioned his inspiration for starting the event, saying "When I first arrived at RPI in 2010, there was still lots of talk of Wafaa Bilal (https://poly.rpi.edu/s/l2rpg), an Iraqi artist who, in 2008, had been run off campus, thanks in part to pressure from the College Republicans. I also can't help but think of all my colleagues, past and present, who are not from the United States and, even if they are not from one of those banned countries, have expressed heightened anxiety and fear."
The march-goers gathered on the '86 Field at noon. Some began to chant while others made signs on the spot with the help of volunteers who had brought extra pasteboard and markers. The crowd grew larger and larger as the group made its way west through the academic side of campus and down the Approach, with its sights set on the streets of downtown Troy. As the walkers wound their way through campus, chants were started and signs were proudly lifted as passersby stopped to take photos and videos. 8th Street, between campus and the Approach, was blocked to vehicles, allowing participants to freely and safely walk as one. As the marchers moved down Broadway, residents of Troy cheered and clapped from the streets and from their windows, showing their support for the cause. Signs were held high by students, professors, and residents of the Troy area alike. There were many simple signs, with messages that were clear and to the point, while there were also intricate and artistic signs, including some created by arts professors at RPI. While most signs relayed messages of support to immigrants and refugees or messages denouncing racism and hate, there were a few that stood out among the crowd. Someone actually held up a welcome mat throughout the march, cleverly symbolizing that immigrants are welcome here. Another sign commented on the march itself, reading "So bad even introverts are here," with an RPI logo in the corner. Another memorable sign was just a printout of Mike Pence's outdated tweet (https://poly.rpi.edu/s/rwp4s) that reads, "Calls to ban Muslims from entering the U.S. are offensive and unconstitutional."
The march concluded with participants stopping at Monument Square in Downtown Troy, and the crowd gathered around the Soldiers and Sailors Monument for a rally. There, the organizers of the event shared their stories and inspirational words regarding how to keep hope alive and how to take action. Members of the crowd were also invited to come up to the center of the group and speak out about their own experiences. Particularly emotional and inspirational accounts were shared by people of all backgrounds, ages, genders, and religions. One of the very first speakers made a point to tell everyone about something he was taught as a child: the human population as a whole is like a human body, and if one part is hurting, or one part is broken, the whole body suffers. He offered that as inspiration for the country to unite as one and reverse the ban against refugees who are in desperate need of help. An RPI professor also spoke out, offering wise words to all students at the march who had left school work behind to come, stating that participation in activities such as these is one of the most important parts of your education. There were also many participants who spoke out about future events in the Capital District, and other ways to get involved after the rally.