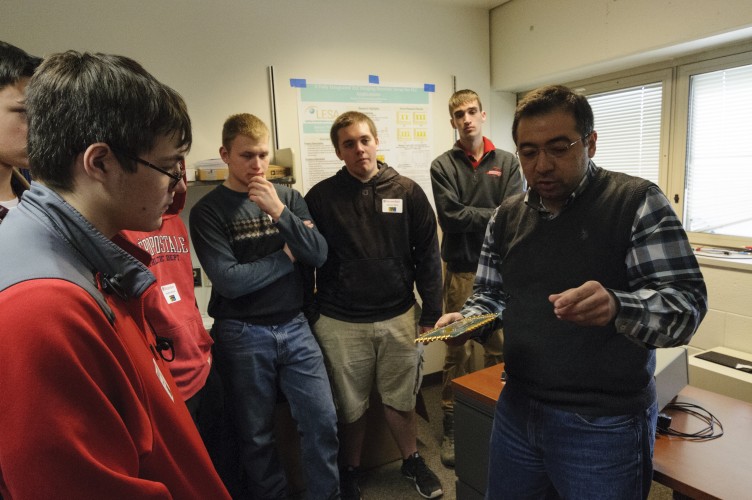 STUDENTS FROM NEARBY HOOSICK FALL HIGH SCHOOL LISTEN as research on visible light communication is demonstrated.
On Friday, October 28, a group of students from Hoosick Falls High School came to visit Rensselaer. In order to inform the students about Rensselaer and what engineers do, some members from the Engineering Ambassadors made a couple of presentations for the students. The first presentation was on the "Future of Light." During this presentation, ambassadors talked about the different types of lightbulbs and their respective efficiencies, as well as the difference between diodes and photodiodes. During and after the presentation, the presenters gave the students the opportunity to try several hands-on activities, which included finding light spectrums and connecting wires to create different colored lights.
Next, Michael Wentworth '17 presented "My College Experience." In the presentation, Wentworth talked about his college experience as a whole and he mentioned things like the clubs he is part of and the different co-ops he has done. This presentation had the purpose of giving the students an insight on college life at RPI.
The students were then taken to the Center for Industrial Innovation to view the work of researchers. In one room, students observed demonstrations on visible light communications. The research team is using lasers for wireless data transfer, up to one gigabyte per second. So far, the team has managed only to transfer data a few feet but they aim to connect campus buildings using the lasers.
In the Smart Conference Room, researchers are using color sensors to detect light and movement within the room. Students were able to see themselves represented as color levels on a screen and watch as the artificial lights adapted to natural light changes.
Finally, students took a walk through the horticultural lighting lab. Researchers are studying the effects of varied lighting on plant physiology and development. The aim is to observe the impact on plant growth and the nutritional value of the plant.
The Engineering Ambassadors regularly visit schools in the area to present on the newest technological breakthroughs. Through their work, the group aims to inspire middle and high school students to pursue education in STEM fields.