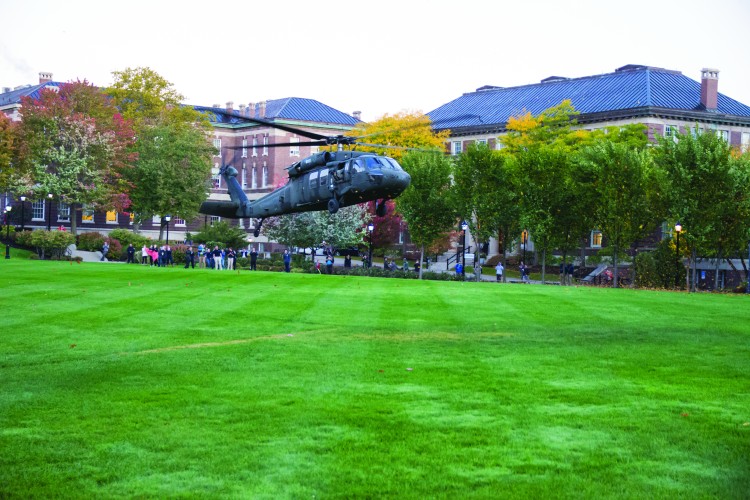 A SIKORSKY UH-60L BLACKHAWK LANDS ON the '86 Field to draw student interest in the field of manufacturing engineering.
Rensselaer's fifth annual National Manufacturing Day program, hosted by the School of Engineering, took place last Friday in tandem with many manufacturing organizations. Companies from across the country traveled to Rensselaer to inform the students, faculty, and staff on what manufacturing actually is, and to take charge of the public perception of it. Events included programs and keynote speakers, exhibits from student organizations, and undergraduate-led lab tours of several Rensselaer facilities. However, the most visible event was the landing of a Sikorsky UH-60L Black Hawk on Rensselaer's '86 field.
The early morning landing and mid-afternoon takeoff of the UH-60L Black Hawk, piloted by members of the Army National Guard's 42nd Infantry Division, drew a crowd of students and alumni who explored the on-display aircraft, learned about technologies being used in the field, and networked with representatives from Sikorsky, Snap-On, and the New York State Army National Guard.
The National Manufacturing Day program at Rensselaer officially kicked off in EMPAC, with program speeches from graduate student James Nowak, president of the Rensselaer chapter of the Society of Manufacturing Engineers; Sam Chiappone, director of manufacturing innovation in the School of Engineering; and local officials, including Troy Mayor Patrick Madden, New York State Assemblyman John T. MacDonald III, and New York State Senator Neil Breslin. Ryan Patry, manager of manufacturing technology at Sikorsky Aircraft, gave a keynote highlighting his experiences in manufacturing, and the importance of the field especially for innovation and future generations. Afterwards, nearly 300 high school students from New York's Capital District Region partook in undergraduate-led tours of numerous Rensselaer facilities including the Center for Automation Technologies and Systems and the Manufacturing Innovation Learning Laboratory, and took part in activities that focused on Rensselaer initiatives in the field of manufacturing.
This program was one of many that Rensselaer holds to foster engagement in numerous fields of science and technology. Thanks to the overwhelming response and engagement from the Rensselaer community, this will not be the last.