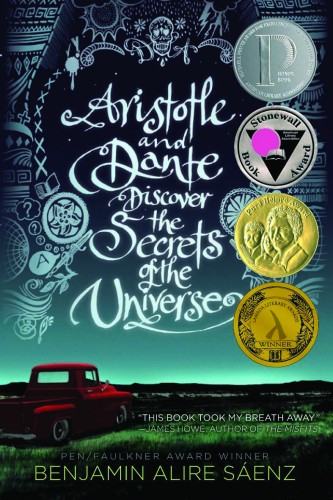 ARISTOTLE AND DANTE WON hearts and prizes.
"Words were different when they lived inside you."
The best kind of books are the ones with characters so vivid and themes so impactful they refuse to be forgotten. Benjamin Alire Sáenz's Aristotle and Dante Discover the Secrets of the Universe is a narrative filled with introspective, quotable moments that live long after the last page is turned. At its core, the Michael L. Printz Award-winning young adult novel is a story of friendship, growth and self-realization. It's a story that begins with the new friendship of two outsider teenagers, Aristotle Mendoza and Dante Quintana, and spans over two summers.
The two first meet at a swimming pool, where an outgoing Dante offers to teach a reserved Aristotle to swim. Aristotle, often called Ari, begins to come out of his self-constructed shell and enjoy Dante's personality. Neither of the two have had many friends, so the origin of their friendship is instantly raw and unique.
It is clear from the start that the two are very different. While Dante is unapologetically honest with his emotions, Ari holds back and likes to be alone with his thoughts. Since it's written in Ari's point of view, the reader has direct access to Ari's complex theories on life's secrets. It becomes clear that his philosophical name was no accident on Sáenz's part, as some of Ari's most private thoughts and emotions come to light. His brother, who is imprisoned, is perhaps the largest contributor to his sadness. He doesn't know much about his sibling other than his name, Bernardo, and where he is—prison. His parents treat the idea of his brother as something to not be acknowledged, which in turn contributes to Ari's reserved personality. It's these kinds of personal dynamics that drive the story forward, making personal connection to characters easily achievable.
Another aspect that sets this story apart from other young adult novels is, interestingly enough, the parents. Whereas most other novels in the genre are focused in wildly dystopian futures with no emphasis on parents, Aristotle and Dante sees the two boys' guardians deeply involved with their lives. They often shift plot points and have plenty of dialogue. Like their sons, however, they are different from one another. While Dante's studious father shows love and affection easily, Ari's father holds a war-torn past and is much harder to read. Dante's parents are open with everything, while Ari's hide away secrets. Each decision they make is shown to affect their sons in different ways, leading their evolution to be just as vital and captivating as Dante and Ari's.
Sáenz has a unique style of presenting thoughtful observations on life—he'll use simple, concise sentence structure for the majority of a paragraph, and then sneak in a lyrical sentence that packs such a punch it makes the reader turn the book over and reflect. These moments are the bread and butter of Aristotle and Dante—Sáenz is masterful at juxtaposing Ari's direct language with his complex ideas. This only makes him more endearing, the reader feeling Ari's every wholehearted laugh and cracked bone.
Aristotle and Dante Discover the Secrets of the Universe is a uniquely thought-provoking coming-of-age story that transcends its genre stereotypes. It uses simple structures to delve into complex ideas, and bravely touches on subjects that demand to be discussed. Above all else, it is done beautifully—the author weaves the lives of two friends together so naturally and poetically it makes the reader's heart ache with emotion. It has the ability to empower and encourage its audience to unashamedly find their best self.
Rarely has there been a set of bound pages I want to read more than once. Aristotle and Dante's story is that rarity.