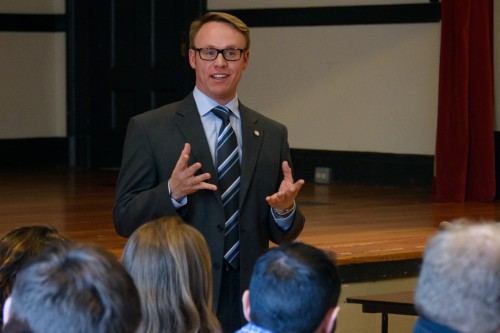 DR. ROSS SPEAKS to students at the Student Life Forum on March 30 at Academy Hall.
On April 7th, The Poly had the opportunity to sit down with Dr. Frank E. Ross, the Vice President of Student Life. The interview was held in regards to the restructuring of the Student Life portfolio, and other topics that concerned campus. The interview began with an explanation of what Clustered Learning Advocacy and Support for Students meant to Dr. Ross.
When asked about the Off-Campus Commons, Dr. Ross shared the plans for a building directed at off-campus students as a dedicated space for the students who live off campus. The building will be located on 15th street and under the purview of Dean Cary Dresher. The Commons will allow Student Life to have a space that will help with programming for the off-campus students and be deliberately targeted at programming for students based on where they are individually.
In regards to the Save the Union protest and Dr. Shirley Jackson's Spring Town Meeting, Dr. Ross revealed he has received many emails and questions from students and members of the community. Dr. Ross explained that he was thankful that we live in a democracy as anybody wanting to protest peacefully can find whatever works for them. He encouraged people to ask questions, to educate themselves and take responsibility for their actions.
In terms of communication with the students, Dr. Ross revealed that he intends to hold regular meetings for students to come ask questions and get answers. He explained that he would rather be proactive than reactive and continued to emphasize that communication has to be in all directions. Dr. Ross also expressed that it was important for student leaders to have channels to disseminate back to their students as well.
Dr. Ross also has begun to formulate ways to improve communication; he spoke on his idea of "rules of engagement," a system that will have set dates for responses from the administration regarding proposals and relevant ideas from the student government. Dr. Ross emphasized that it was important for student work to get the attention that it deserves.
The Vice President of Student Life also encouraged input into the restructuring of Student Life. Dr. Ross expressed that it was easier to have input from people face to face. Moving forward, he hopes to get off on a good start with new President of the Union and Grand Marshal.
The next topic addressed was the effect of the Summer Arch initiative on the Student Life portfolio. Dr. Ross explained that junior year is for outward focus as students look beyond Rensselaer. The Summer Arch program is designed to give students meaningful experiences away from campus. The focus of Student Life as the Summer Arch is evolving in the coming years include focusing on more student programming in the summer among other things. Other new steps being taken include more personnel in the Center for Career and Professional Development, faculty for teaching, and the creation of a Director of Summer Arch position. They hope to use the two optional pilot programs beginning in the summer of 2018 to improve the program. Dr. Ross asked that students contact him and hopefully bring in new ideas to improve student life.