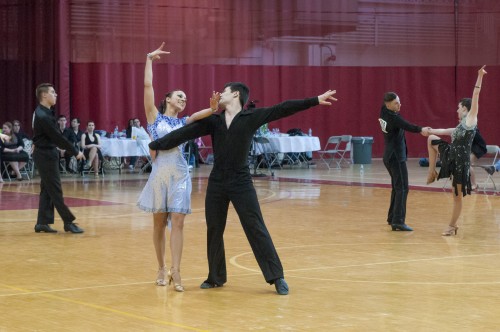 PARTICIPANTS ENJOYED themselves in movements, rhythms of music and interaction with their parterners.
RPI's Ballroom Dance Team hosted its 9th Annual Dancesport Competition in the Alumni Sports and Recreation Center on Saturday, April 2nd. Over one hundred competitors from across the Northeast attended the competition, from schools including Boston University, Rochester Institute of Technology, the College of the Holy Cross, and Stony Brook University. About one hundred spectators, students, family, and community members alike also showed up to support the RPI Ballroom Team and watched some wonderful dancing.
The competition started at 8 am in the Armory and ran all day until 5 pm, with dancing all throughout the day. International Standard and American Smooth styles were danced in the morning and American Rhythm and International Latin styles were danced in the afternoon. Smooth and Standard includes dances like Waltz, Tango, and Foxtrot, while Rhythm and Latin includes dances like Cha Cha, Rumba, and Swing.
Dancers competed against other couples of their skill level, and were called back to successive rounds until the finals in their respective level. The top couples in each style were awarded scholarships to the Diamond Ballroom Dance Camp, organized by RPI Alumni James and Yaroslava Cassell.
RPI Ballroom expressed its gratitude towards the many volunteers, the officials who attended the competition, and the staff of the Rensselaer Union for their hard work in making this competition a success.
After the competition, Alex Schneiderman '19 said: "As simplistic as it sounds, I dance because it's fun. Coming into RPI, I'd never tried ballroom or even had the inclination for it, but I ended up trying it out and I got hooked. Something about the pure physicality of it makes for an almost cathartic experience—you're effectively dancing your heart out, giving it all for the spectators, judges, and yourself (and your partner). It can be exhausting and frustrating at times, but when the music ends and the dancing stops, it all feels worth it."
Also, you don't have to be a dancer to enjoy it, either—as a spectator, you can simply have fun watching. Dance is a universal language, and no matter how much or little you know about it, the emotion and energy extruded by the dancers is understandable—and enjoyable—to everyone in the room.
The RPI Ballroom Team is open to students as well as members of the community. Any level of experience is welcome (many people, even on the team, come in with zero dance experience). Practices are open and the commitment level is totally up to you. If you are interested in RPI Ballroom, check out their website at http://ballroom.union.rpi.edu!