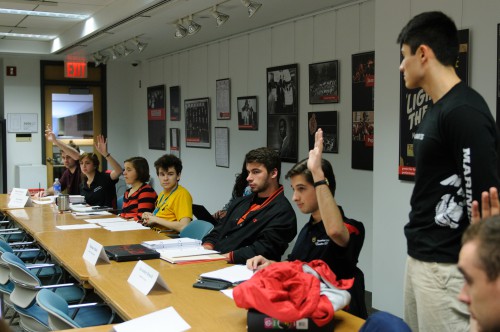 ON SUNDAY, THE EXECUTIVE BOARD COMPLETED budgeting for FY17 and scheduled appeal hearings for Thursday. (file photo)
The average undergraduate student at Rensselaer pays $329 in activity fees per semester. This money is collected and used toward student-run events, student-led organizations, and many more student-centric programs. RPI attendees can be assured that these funds are also student-managed. Through overcoming the complexities and pressures of handling these finances, the Executive Board leads the student body to the finale of the budgeting season.
In the final months of the Fall semester, clubs and organizations met with their E-Board representatives and Student Activities Resource Person to hash out the details of their budgets, readying them for the preliminary budget due dates. There isn't a single time for all clubs and organizations to submit these budgets, but rather, they are staggered throughout the season, allowing the E-Board to scrutinize each more carefully. The three major groups that receive funds are Intercollegiate Athletics; Rensselaer Union Funded Clubs; and the Mueller Center, Archer Center, and Union Building.
All National Collegiate Athletic Association teams' budgeting takes place at the East Campus Athletic Village, whereupon their budgets are reviewed by their representatives and Karen Hansen, the business administrator for athletics. After their preliminary budgets were submitted, their budget was finalized a month later. For all athletics, there is a ceiling that their total budget must not exceed.
The budgeting for the Mueller Center, Archer Center, and Union Building fund takes place during the study days of the Fall semester, with their budgets due December 8 and finalized December 15. These budgets are reviewed by President of the Union Nick Dvorak '16 with the aid of the Director and Business Administrator of the Union, taking into consideration historical data, returns, and merit. This budgeting, along with all the Union funded clubs, takes place at the Union itself.
There are about 170 Union Funded Clubs, and while their preliminary and final budgets were due November 30 and December 21, respectively, their budgeting days took place last Thursday, January 21, to Sunday, January 24. Clubs and organizations are dealt with similarly to the aforementioned groups, with representatives examining their budgets and making recommendations, looking for what can be done away with. This information is collected and compiled, and then released Sunday at 7 pm. Club members that disagree with the final product have until noon on Wednesday, January 27 to make an appeal. It is recommended that appeal forms be filled out after meeting with E-Board representatives and SARPs. Hearing for appeals begin Thursday, January 28 at 8 pm. What is to come is a week of careful and considerate discussion to create the recommendation for the activity fee. The Union Annual Report for Fiscal Year 2017 will also be filled with this compiled data. To review the UAR for Fiscal Year 2016, go to http://poly.news/s/xb2b0/.
This is the process that has taken the Student Activity Fee and put it to what the E-Board deems the most and best use. A near 4.4 million dollars in expenses are being directly controlled by the E-board, while the total operating budget rounds to about 9 million. Estimated sums of 1.8 million are apportioned to athletics, 1.5 million to the Union and satellite buildings, and about 1 million to clubs and organizations. The decision to apportion what amount of money to whom is based on guidelines and E-Board policies, with newer clubs usually given less to "allow them to establish their programs and goals," starting at around $125. However, it should be noted that being an older club or organization does not guarantee more money.
Those interested in understanding more about how the Student Activity Fee is put to use, or how their clubs are financed, should contact a member of the E-Board.
"We have handled over four million dollars, and hundreds of budgets, and [we] believe addressed all of the major needs of our organizations while providing new opportunities and support … This is hard work, but it gets done for the good of the Union and the student body, no matter what." – President of the Union Nick Dvorak '16