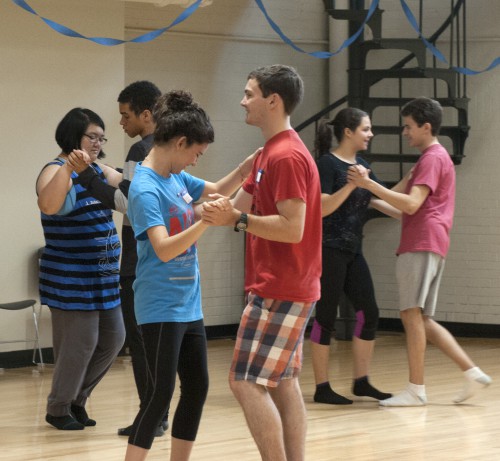 On Wednesday, August 26, the Academy Hall basement was full of music and laughter as the Ballroom Club hosted their Navigating Rensselaer & Beyond event. As I stepped in the ballroom classroom, I saw a female dance teacher standing in the middle of the room. It felt like everyone was relaxed, even though I thought the silence would be awkward.
One member said that he was interested in dance. Although it was his first time dancing, he was willing to break out of his comfort zone and was enjoying his time learning ballroom dancing. He admitted that it could be a bit awkward at first to dance with strangers, and would rather dance with friends. However, as time went by, he found it easier to enjoy dancing and making new friends.
Another student shared her story about ballroom with us. After a stressful first semester at RPI, she joined the Ballroom Club after recommendations from her friends. Much to her surprise, she found dance a fabulous way to relieve stress and gain confidence, especially when she was successful in competition.
Two freshmen danced together for a piece. They explained that their dancing partners rotated so that everyone had a chance to dance with each other. One of the freshmen explained that he had some prior dancing experience, but it could still be quite awkward during the first few seconds. However, once the music started, his nervousness disappeared. While another freshman had her first taste of dance during this event, she talked about how wonderful ballroom was with a shining smile on her face.
The students were somewhat clumsy—sometimes unable to catch up with the pace or failing to remember exactly what to do—but dancing's charm drove them to continue to explore. If you are also seeking a place where you can relax, enjoy music, and make new friends, then I strongly recommend checking out the Ballroom Club where you can appreciate the beauty of dance all across your body. Visit their website at http://ballroom.union.rpi.edu.