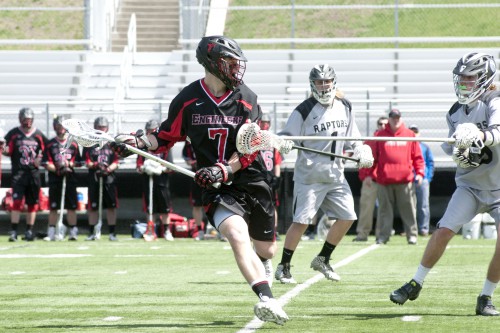 FRESHMAN MIDFIELDER LANE MEYER CHARGES into the Bard zone. The Engineers crushed the visiting Bard Raptors by a final margin of 19-1.
RPI men's lacrosse finished its regular season last Saturday at the East Campus Stadium against the Bard College Raptors. One period was enough for the Engineers to take firm control of the game, and they won by a final score of 19-1.
In the first period, senior attack John Nolan scored his first goal of the season to put Rensselaer up 1-0. Bard attack Henry Blosfelds responded three minutes later with a goal to tie the score at one. What ensued was 54 minutes of dominance for the Engineers.
Fourteen seconds after Bard tied the score, junior John Phillips put Rensselaer ahead for good with his second goal of the season. Then, Nolan scored again assisted by senior attack Scott Crow to give RPI a 3-1 advantage with 6:26 remaining in the opening quarter. Later, two goals by junior attack Patrick Finn rounded out the scoring in the first period.
Bard found no answer for RPI's speed and strategy, failing to score a goal in the final three periods of play. Meanwhile, Rensselaer took advantage of the mismatch to score 14 goals over the last 45 minutes of the game. Nolan scored five goals to lead the charge for the Engineers. Finn tallied a trio of goals while Crow and standout sophomore attack Breanainn McNeally each scored twice. McNeally's two goals in Saturday's game brought him to a regular season total of 35 goals, the fourth most in the Liberty League conference.
In the fourth quarter, sophomore attack Matt Krecicki, freshman midfielder Rhett Adley, senior midfielder Alex Lewek, and freshman attack Zachary Lukas all contributed their first goals of the season, while freshman midfielder Nick LeSaint scored his first collegiate goal 2:38 before halftime. In addition, sophomore midfielder Jake Weidner scored his 22nd goal of the season early in the second period.
In net, sophomore goalie David Gibbs played the first period, allowing one goal on two shots to earn his 10th win of the season. Then, freshman Parker Smith stepped in for the second and third quarters, stopping the lone shot he faced during that span. Finally, junior Troy Manchester came in to close the game, making three saves in the game's final quarter to help the Engineers to a 19-1 win.
The Engineers finished the regular season with a record of 10-5 overall and 4-3 in the Liberty League. Due to a tiebreaker, the Engineers didn't make the Liberty League conference tournament. They still, however, have a chance to make the National Collegiate Athletic Association Division III tournament. The field will be announced on May 3.