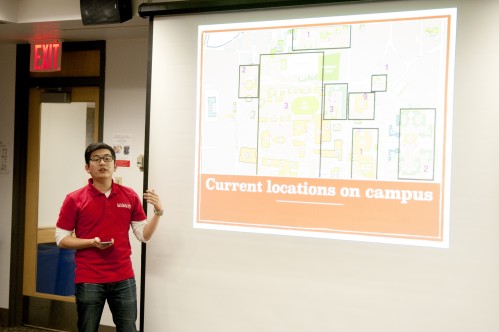 Michael Han '16 proposes a new idea to bring 15 new picnic tables to RPI campus.
The Senate met last Thursday with a very full schedule, which included two presentations and three constitutional amendments. But first, the Senate made two new appointments. Joshua Rosenfeld '16 was appointed parliamentarian in a 16-0-8 vote and Keegan Caraway '18 was appointed secretary in a 22-0-2 vote.
Michael Han '16 then began the first presentation on a proposed picnic table project. The idea of the project is to buy approximately 15 new picnic tables to place around campus, encouraging more students to study and socialize outdoors during the warmer months of the year. The tables would be built by student organizations with a "brought to you by" plaque to thank them. The administration has already pledged $2,000 to the project. Han is presenting to the Executive Board next week in hopes of receiving the rest of the funding. Graduate student Jenn Wilcox questioned whether there would be liabilities with having students assemble picnic tables. Han said that the tables would come in five pieces and should not be difficult to assemble. However, his committee will be assembling one table beforehand so that they may assist the student organizations and ensure everything runs smoothly. Mason Cooper '17 asked if it would be possible for the tables to be decorated by whomever assembles them. Although he liked the idea, Han worried that a rivalship between clubs and organizations might cause the tables to be vandalized.
Next, Justin Etzine '18 presented proposed changes to the Senate bylaws. Many of these changes address clarifying quorum requirements and officially defining queues as the primary method of debate. These changes are still in early stages, but Shoshauna Rubinstein '16 emphasized the importance of not overcomplicating queues. She worried that guests would not feel welcomed if they are told they are "speaking wrong" because the queue system is complex. Etzine encouraged the senators to contact him about proposed changes.
The main topic of the evening was Senate constitutional amendments presented by Nathan James '15. The first amendment was titled General Fixes and Disambiguation, which would allow for grammar and language changes, as well as changes such as moving part d to part c if the previous part c was removed. This was passed in a 21-0-3 vote.
At this point, there was a motion to postpone the discussion of amendments because the meeting had stretched beyond two hours and many senators were anxious to adjourn. Wilcox and Caraway opposed the motion and felt that since senators were emailed the changes, they should have been prepared for the meeting. Paul Ilori '17 argued back, saying that physical discussion among Senators was important before these changes are voted on. Since many senators were tired and ready to leave, he felt that proper discussion would be avoided and the amendments moved to vote sooner than necessary. After some back and forth among Senators, there was a motion to vote on the issue, which passed 16-5. The Senate adjourned with the intention of having a special meeting outside of the weekly Thursday meetings to cover what was missed. The special meeting is expected to be held on Monday, March 9 at 7 pm; the location has not yet been determined.