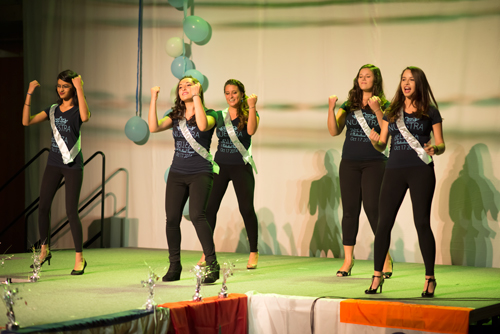 NUESTRA BELLEZA HOSTS a large crowd, with cultures represented from countries around the world.
Over 150 attendees were treated to a compelling multicultural experience through dance, music, food, and other displays of culturally-significant tradition at Sigma Delta sorority's annual multicultural pageant Nuestra Belleza. "Nuestra belleza" translates from Spanish to "our beauty," indicative of the purpose of introducing the beauty of various people's cultures to the RPI community.
The pageant's format was such that RPI women could represent their cultural backgrounds by leading a team of performers to convey their culture to the audience. Each team represented a country; represented countries were India by Dharani Adhvaryu '15, Mexico by Evelyn Hinojosa '16, Morocco by Sofia Raziq '18, Poland by Stephanie Sawicz '15, and Costa Rica by Sofia Kyle '15. The master of ceremonies was Frank LoPinto '16.
Each contestant presented an introductory dance, a display of traditional wear, and a show of talent. The introductory dance was taught to and performed by the sisters of Sigma Delta. For traditional wear, Kyle wore a Costa Rican Traje Tipico, a white ruffled blouse trimmed in different color combinations and a wide, ruffled, ankle-length skirt of bright colors. Raziq wore a Moroccan Jaleba, a throw to cover the body in public for respect purposes, typically composed of wool in varying shapes and colors. For the talent section, Adhvaryu sang "A Hymn to the Goddess," an Indian prayer hymn. Sawicz performed on the flute. Raziq performed "Falling Slowly" from the musical Once on the Piano. Hinojosa performed a traditional Mexican dance, Bachata.
Interspersed between sections of the contest were intermission performances by other clubs and organizations. The Brazilian Association for the Support and Development for the Art of Capoeira represented Brazilian culture with Capoeira, a martial art that combines dance, acrobatics, and music, with a focus on kicking. Pumper, a local pop-punk band, also performed, spicing in a bit of modern American culture into the mix. There was also an intermission for the purpose of distributing traditional foods to the attendees.
The pageant concluded with a question-and-answer session regarding social, economic, and cultural issues in the country each contestant represented. Following, based on an online vote by the audience and the opinion of the judges, first, second, and third place winners were announced, crowning Miss Nuestra Belleza 2014. Judges included Assistant Dean of Residence Life Randi Mogul, Grand Marshal Kyle Keraga '15, RPI Panhellenic Association's Assistant Vice President of Recruitment Mary Hackbarth '15, RPI Interfraternity Council Vice President of Risk Management Arjun Chavern '15, and last year's Nuestra Belleza winner, Dannah Joyce Laguitan '16.
Apart from introducing various cultures to the RPI community, Nuestra Belleza had a philanthropic purpose. Derived from admission costs, Sigma Delta raised $850 this year to be donated to Kids' International Dental Services, an organization devoted to improving the dental health of those children in greatest need worldwide. KIDS provides pro-bono, preventative, and emergency pediatric dentistry to impoverished children in developing countries. They carry the motto "committed to every child in the world, having a smile." In previous years, proceeds from Nuestra Belleza had gone to Invisible Girls, Friends for Orphans, Migrant Outreach Program, World Vision, and the International Justice Mission. Sigma Delta improved $250 on last year's $600 raised.