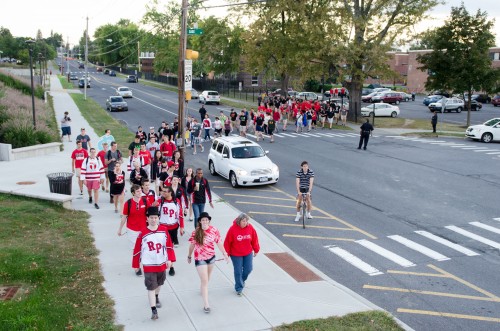 HOCKEY LINE HEADS for the Houston Field House to buy season tickets for the RPI Hockey season.
The 41st Hockey Line ended Tuesday, September 9. Hockey Line, an RPI tradition organized by the Grand Marshal, is when students wait in line to buy seasons tickets. In 1985, one group started waiting in line right after RPI won the national championship. Part of the reason for this line was that pillars obstructed the view of many of the seats before the Houston Field House was redone. This year, Hockey Line started early; the rules were available before classes started, and the countdown clock counting the days, minutes, and seconds until seasons tickets go on sale was hung on the Rensselaer Union during the first week of classes. Participants lined up on the Rensselaer Union patio and had to have at least one person present from 8 am–9 pm to keep their place in line. The winning group was Red Army.
On Monday, September 8, Miracle was also shown on a giant screen over the Rensselaer Union green roof. Members of fraternities, sororities, deans, and students were able to talk with Men's hockey Coach Seth Appert about the upcoming season.
This year, the team will have four goalies. The fourth goalie is Sam Goodman '16, who played with the Club Hockey Team and practiced with the varsity team. Appert editorialized: "He's a fantastic young man, a great representative of our program, and he has worked his tail off." Freshmen additions to this year's roster include: Mike Prapavessis '18 (D)—drafted by the Dallas Stars in the 2014 NHL Entry Draft, and Lou Nanne '18 (F)—drafted by the Minnesota Wild in the 2012 NHL Entry Draft.
Seth Appert said, speaking about the Union College NCAA win: "I don't want to say I was happy for them, but I was happy for our league." The schools in the Eastern College Athletic Conference, which Appert says "have the best student athletes, have the kind of kids that have
the grades you need to go to these schools," has become, "the best league in college hockey. Except for Clarkson … They're certainly not near us in engineering, their graduates are just lucky to get jobs." Appert said, "A little bit of hatred in sports is a good thing as long as there is respect that goes along with it."
On Monday night, teams participating in Hockey Line had to have one member sleep over. At 7 am on Tuesday, Appert and Women's Head Coach John Burke brought Hockey Line participants doughnuts. Beginning Tuesday afternoon, games and performances were held on the Rensselaer Union Patio. Duly Noted and Juggling Club were among the performers.
Red Army came in first, followed by Lamba Chi Alpha, Delta Phi, Sigma Chi, and other groups. Red Army members included Stephen Browne '15, Larenz Devaren '17, Sam Keller '16, Matthew Lynch '17, Jasmine Mullins '15, and Matthew Pack '17. Keller said that Red Army had shifts to keep their place in line. Red Army is different from the other groups present in that any student could get tickets through them. Keller felt it was great to help "super big fans" get their seasons tickets. Red Army also held a barbecue for students during the remaining couple hours before the march up to the Field House.
Around a hundred people marched up to the Field House to buy seasons tickets. The marching line was headed by Grand Marshal Kyle Keraga '15, President of the Union Erin Amarello '15, and Student Activities Director Cameron McLean. The march route went through Freshmen Hill, through the Commons parking lot, and up Burdett Avenue. Cars driving by stopped and waved or honked. RPI Ambulance and Puckman drove up Burdett in a van ahead of the marchers. When the march arrived at the Field House, the Pep Band started playing songs, including the Alma Mater. Hockey Line participants were allowed to buy their tickets in groups of five. Members of both the women's and men's hockey teams gave out free pizza and ice cream. Starting at 8 pm, open skate took place on the rink. Rental skates were provided for free to students.
Seasons tickets can still be bought. Appert said, "The more students we get to buy season tickets, the more students we spread the word to … the more school spirit we have, the more fun it is for everybody."