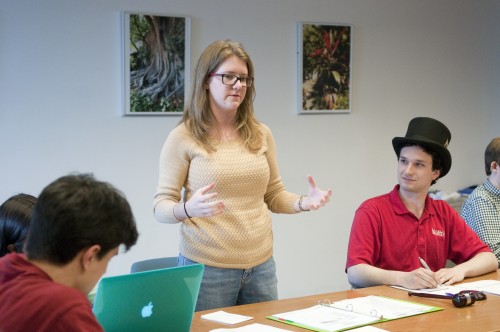 MORGAN SCHWEITZER DISCUSSES her background and why she was appointed to Parliamentarian.
On Monday, April 5, the 45th Student Senate had their last meeting of the semester. They met to amend the Senate by laws and approve the Grand Marshal's appointments to cabinet and committee chairs.
The bylaws were amended to formalize the formation of joint committees, particularly the Senate Communications Group. Michael Han '16 noted that only SCG was in the bylaw amendment, while the Union Annual Report and Web Technologies Group had been talked about earlier about them becoming joint committees. Shoshana Rubinstein '16 said that the UAR has always been a joint committee. The amendment was passed 13-0.
Grand Marshal Kyle Keraga '15 introduced each of his Senate cabinet appointees and let them talk a bit about themselves. Senators and others in the room asked questions before a vote was taken. Morgan Schweitzer '16 was chosen for parliamentarian; Schweitzer is the Panhellenic Association senator. She said that she has known Robert's Rules of Order since she was 10 and has been to international conferences representing RPI using Robert's Rules.
Cody Kline '16 was appointed to secretary. Kline has been in secretary positions before. She said that she is very organized and good at taking notes. Tyler Cowan '16 was appointed to the Senate-Executive Board liaison position. Keraga explained that the Senate-E-board liaison chairs the UAR committee and makes sure both Senate and the E-Board stay in communication. Cowan was on the committee last year. He said he wanted to start work on the UAR earlier and advertise what the committee does. Cowan also wanted to make sure a good infographic went into the UAR.
Robert Dai '16, treasurer appointee, has had a lot of treasurer experience including for his fraternity. Han, who was treasurer for 2013–2014, asked Dai if he knew about the change to a lump sum instead of each committee having its own budget, and how Dai would deal with that. Dai said he plans to keep track of expenses and which committees spend how much. Ethan Illfelder '15 asked how much money Senate gets, to which Han replied is around $6,000 total. Most of that goes towards Hockey Line and the Rules and Elections commitee, according to Han. Tina Gilliland '15 was appointed to vice chairmen. Keraga noted that she has been in Senate since freshmen elections in 2011 as well as committee chairmen of Facilities and Services comitee for 2013­–2014 and SCG the two years prior to that. He also said he felt that Gilliland would be a good counterbalance to his big ideas. All of the appointees were confirmed by the Senate, most of them unanimously.
The Senate committees included Academic Affairs Committee, FSC, GM Week, R&E, SCG, Student Life Committee, and WTG. Keraga noted that most of Senate's work is done through these committees. Gabe Perez '16 was appointed to WTG chairmen. Perez was chairmen of WTG last year and wanted to work on more projects, including MyRPI and Concerto. Rubinstein asked whether students wanted to continue using MyRPI, to which Perez said that there was "definitely an interest" and students were logging into their panel and some had sent him emails about it. Illfelder asked whether Flagship Docs would be updated, to which Perez replied that he didn't know if WTG has the resources to do so. AAC chair appointee Marcus Flowers '16 explained that he was vice chairmen of AAC last year and hopes to make the systems supporting classes better, especially for higher level courses. Lexi Rindone '15, SLC chairmen appointee, was health services subcommittee leader last year.
The FSC chairmen appointee was Han, who was vice chairmen of FSC last year. He wanted to work on new projects such as water fountains that can fill up water bottles as well as continue work on old projects such as car sharing. Graduate student Mike Caiola asked whether car sharing was last year, to which Han replied that it was but that FSC would need to follow through. Currently, they are waiting on the administration to make a decision; if the proposal goes through, FSC would help with finding companies and publicizing to students. If the proposal does not, FSC could work on revisions and try again. Illfelder asked Han about the biggest issues FSC would be working on. Han said that there are lots of complaints and FSC would go through those and see what could be done. Definite projects include a subcommittee to work with Sodexo and another subcommittee working on a green revolving fund. Follow-ups to projects were stressed. After a lengthy discussion on whether or not the annual light walk should include indoor lights as well (currently, the idea is to find potentially unsafe areas along paths students frequent), the motion was called to question.
Gavin Noritsky '16 was appointed to SCG chairmen. Noritsky talked about his leadership skills, including being president of Pi Kappa Alpha. He said that he likes to go out and communicate with people and felt that Senate had a gap and he wanted to solve that, starting with a short survey. He also wants to talk with other colleges' student government and figure out how to reach out to more people. Rules and Elections Commitee chairmen appointee Melanie Todis '17 was vice chairmen of RNE last year. She said that she knows how to run everything needed to run elections. Todis plans to ask the E-Board for money to buy an electronic voting system; if that does not work, she plans to talk to Rensselaer Center For Open Source software. Todis also hopes to make changes regarding postering rules for referenda.
Daniel Louchheim '15 was appointed to GM Week chair. GM Week is considered a subcommittee of R&E and puts on all of the GM Week events. Louchheim was treasurer of the committee last year and plans to work on communication with clubs. Louchheim and the rest were all confirmed unanimously.
Keraga told the senators about upcoming happenings; changes to the Student Handbook will be worked on in the fall regarding sexual assault policy. Caiola also gave an update for Graduate Council. Graduate student Kristen Lee was elected president; Caiola, vice president. Graduate students Nick Thompson and Benjamin Walcott were elected treasurer and secretary, respectively.