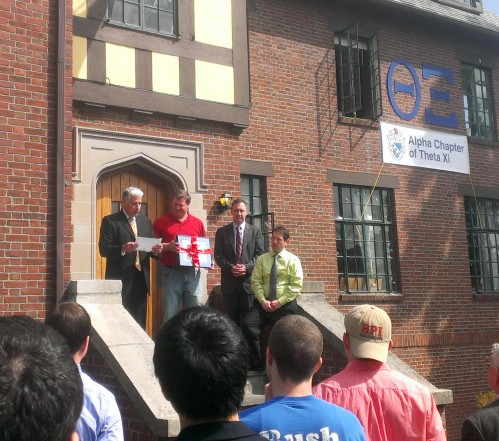 RPI FRATERNITY THETA XI'S HOUSE CELEBRATES its 150th anniversary. The chapter house was named a National Historic Place last weekend.
On Friday, April 25, William Krattinger, a Historic Preservation Program Analyst with New York State Office of Parks, Recreation, and Historic Preservation, came to the Theta Xi chapter house to dedicate it as a National Historic Place. This dedication comes just in time for the 150th anniversary of the fraternity, originally founded at RPI on April 29, 1864. Residing at 1490 Sage Avenue, the fraternity's alpha chapter house is now listed in the National Register of Historic Places, as determined by the United States Department of the Interior.
A building or landmark is eligible for entry in the National Register of Historic Places if the property falls into one of the following categories: it is associated with events that have made a significant contribution to the broad patterns of U.S. history, the property is associated with the lives of persons significant in United States' past, it embodies the distinctive characteristics of a type, period, or other architectural distinction, or the property has yielded or is likely to yield information important to prehistory or history.
The Theta Xi chapter house falls under the criteria (c), or third aforementioned criteria, architectural distinction. According the National Park Service's website, the house "is an excellent local example of the Tudor revival architectural style, as interpreted by New York architect Joseph M. Lawlor and as applied for domestic purposes." Joseph M. Lawlor, an RPI alum, has also designed Russell Sage Laboratory, the Quadrangle Dormitories, and Amos Eaton Hall, among other RPI and local buildings. Features that exemplify the Tudor revival style are its Tudor-arched limestone entryway, steeply pitched slate intersecting gable roof, and grouped casement windows. The building also includes Flemish bond brick work and half-timber and half-stucco elements, which are also Tudor characteristics.
Built by the Rosch Brothers contracting company, the house has been maintained and functions in almost the same way it did when it was finished in 1931. Additionally, no major changes have been made to the buildings that detract from its original design, which made it eligible for recognition.
As a result of the dedication, the house received a plaque, signifying its status as a National Historic Place, next to its front door entrance. In addition, on behalf of the Rensselaer Alumni Association, President Roger Mike, Executive Director Jeffrey Schanz, and Associate Advancement Officer Geoff Seber, presented the chapter with a Resolution of Recognition for its great achievements at RPI. The criteria the Alpha Chapter fulfilled for the award was its rich history, strong brotherhood and distinguished alumni.
The Alpha Chapter of Theta Xi at RPI has served the Rensselaer community with its leadership, service, academic excellence, and brotherhood, for the 150 years it has existed. For more information on the building's status as a National Historic Place, visit http://www.poly.rpi.edu/36284.