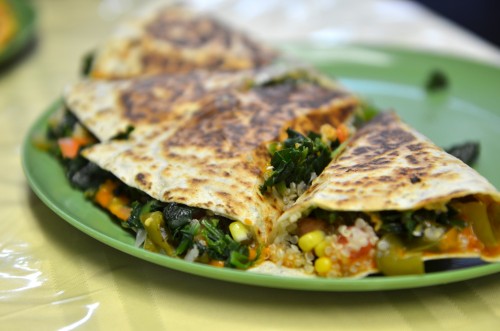 Muddaddy Flats Quesadillary offers typical cheese quesadillas as well as multiple vegan alternatives.
Muddaddy Flats Quesadillary is a small locally-owned restaurant specializing in quesadillas. It's located in downtown Troy on 409 Fulton Street. The restaurant celebrates its first anniversary this Thursday, September 12. Its menu has quesadillas specialized for breakfast, lunch, and dinner. It also features a specials menu that rotates depending on the owner's and cook's whims. They encourage repeat customers and have a card similar to Father's coffee card: buy ten and get the eleventh free.
David's Opinion
The restaurant facilities are nice, well lit, and clean. The folks that run it also have a nice casual atmosphere that I appreciate, and they are inviting.
The food is pretty much excellent. They have the standard variety of tortillas for their quesadilla based artistry; they also have the non-standard gluten free rice tortillas which make a solid addition. They use very fresh ingredients and they make your food fresh on a grill and in front of you if you would like to stand and watch.
In the past I have had "The Tanya" several times, which is a quesadilla with avocado, bacon and several other things. I have had it several times, and I have loved it every time. Muddaddy Flats also has a special Muddaddy sauce which is spicy and delicious, and they also have a smoky jalapeño sauce which similarly heats my mouth in the most hurts-so-good way, and I can only urge any other spice enthusiasts to go here and try it.
I also think their deserts are worth a mention. They have these delightful sort of one-bite deserts for 75 cents called "brookies", basically a cookie inside a brownie, and sweet zombie Moses are they good. Get yourself a fresh one and I promise a party in your mouth.
In summary, if you need a decent and fairly priced lunch, go to Muddaddy Flats. They are a spicy and delicious time.
Elizabeth's Opinion
As someone allergic to all things containing milk products, a quesadilla place wouldn't normally be somewhere I would try to get food. Muddady Flats however makes wonderful vegan quesadillas: spicy, hot, and delicious. They use a cheese substitute (I believe soy-based) that contains no dairy.
Prices for the vegan quesadillas—the sign says substituting vegan cheese for dairy cheese is possible in any quesadilla, but I have only ever tried the one advertised as vegan—are a bit higher than the normal version, but it's worth it. At most restaurants, there are few options. Here, it's right on the menu.
If you are a vegan or are allergic to milk like me, check out Muddady Flats! The quesadillas are incredibly delicious and I highly recommend them.