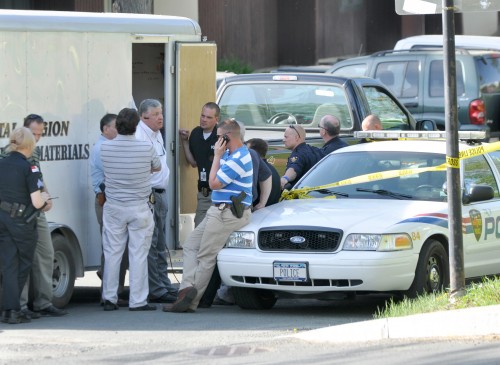 POLICE, HAZMAT, AND FIRE OFFICIALS DISCUSS an explosion incident outside the Bryckwyck apartments. The incident, which happened around 2 pm, led police to perform a room-by-room search of the Rousseau residence hall, looking for any remaining hazardous substances.
Yesterday, May 7, a minor explosion occurred in the vacinity of Rousseau residence hall, near the dumpsters shared by the Rousseau, Bryckwyck Apartments, and Stacwyck Apartments.
The explosive was, according to bystanders, a Coca-Cola bottle being moved by a worker. The bottle exploded upon being handled and gave the worker injuries that had him sent to the hospital, though the injuries were not serious. "The worker was exposed to the liquid in the bottle," Troy Police Captain John Cooney told The Troy Record. "He was immediately transported to Samaritan hospital where the injuries, if any, appear to be slight." The Department of Public Safety responded to the incident as support for the Troy Police Department and the Capital Region Forensic Hazmat team.
According to two anonymous students who were evacuated from Rousseau hall during the investigation of the incident, they believed that the building was being searched for any kind of remaining explosive, and that some kind of explosive had been found in the hall. They also stated that the incident happened at shortly before 2 pm, nearly a full two hours before the RPI alert system went active informing campus at large about the incident.
An RPI representative at the scene stated that the residue of the explosive in the bottle was currently being sent off to a lab to be analyzed for its chemical contents and likely form of construction.
According to the follow-up alert release by the RPI alert system, a room by room search was conducted in Rousseau hall which did not find any possibly explosive materials. Both Bryan Fitzgerald of the Times Union and The Troy Record reported that police later confirmed that the only potentially hazardous material in the area included the bottle and its contents.
Editor's Note: We at The Poly would like to remind all of our readers that if they see something, they should say something. Any suspicious objects or packages of any kind should not be picked up or approached and should instead be reported to both the Troy Police at 911 and the Department of Public Safety at 518-276-6611.