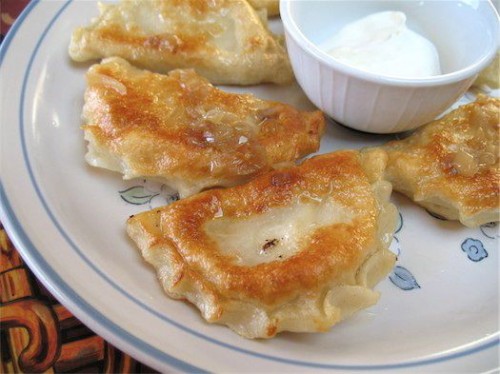 Muza is one of the most beautiful restaurants in all of Troy, with a magnificent beer garden and wondrous inside decor not unlike what I might expect from a great homestyle restaurant in some quaint part of an eastern European town. I stopped by here once before with friends during my freshman year and ordered a delicious chicken marsala. The place was somewhat small back then, and I had heard that they have made some significant changes since, including expanding into the garden behind them, so I was anxious to try them out once more.
Muza offers a large variety of Polish and other Eastern European dishes, including Polish pierogies (potato and onion dumplings), Vienna schnitzel (breaded pork chop topped with a over-easy egg), goulash (stewed beef in gravy), and tilapia with a creamy lemon dill sauce. As can be expected, some of the food is rather heavy, but all-in-all, even the most egregiously heavy choices are not too bad, and are certainly just as delicious as any of the other options.
But on to the meal. For my main dish, I ordered a slightly-altered version of the Polish Feast: a selection of different options from the Polish-specific portion of the menu. This dish consisted of two pierogies, two latkes (potato pancakes), kielbasa (sausage), sauerkraut (sautéed cabbage), and mashed potatoes. Despite the latkes and mashed potatoes being a little heavy for my tastes, everything still turned out wonderfully. The meat was cooked to perfection, and the pierogies had a perfect texture. For dessert, I ordered a chocolate raspberry rum cake. Though I mostly tasted the chocolate and the rum of the cake rather than the raspberry, I have no serious complaints with the dessert, either; to me, it was a nice and simple chocolate rum cake.
In general, the service at Muza is impressively good, though I would suggest going there as a group rather than as an individual. The pricing is a little high for most college students—the lowest cost for a dinner sans dessert probably being about $8 after tax and tip—but is worth it for a wonderful time and a delicious meal. When I was there most recently, the server was somewhat flustered, but that makes sense; there was only one person staffing the dining room at that time, and it started to get rather busy while I was there. The server was still very friendly and did a great job. Muza is open from 4–9 pm Tuesdays through Thursdays and 4–10 pm Fridays and Saturdays at 1300 15th Street, right across Congress Street from Polytech Apartments. For groups of six or more people, reservations should be made in advance. If you get the opportunity to check Muza out, I would highly recommend it.